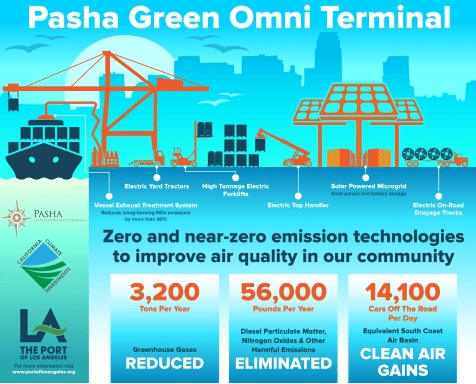 Pasha Stevedoring and Terminals LP and the Port of Los Angeles are launching the Green Omni Terminal Demonstration Project, a full-scale, real-time demonstration of zero and near-zero emission technologies at a working marine terminal. As part of the project, Pasha will integrate a fleet of new and retrofitted zero-emission electric vehicles (EVs) and cargo-handling equipment into its terminal operations.
According to the release, upon full build-out, Pasha will be the world's first marine terminal able to generate all of its energy needs from renewable sources.
The project's developmental fleet of zero-emission cargo handling equipment includes four electrified yard tractors, two high-tonnage forklifts, two drayage trucks and a top handler. Additionally, two wharf cranes will be upgraded with new electrical drives and control systems.
The project, costing a total of $26.6 million, is funded in part by a $14.5 million grant from the California Air Resources Board (CARB) for reducing greenhouse gases and other pollutants. The competitive grant, the first of its kind for a multi-source facility demonstration project available through CARB, required matching funds of at least 25%. Pasha, the Port and other partners exceeded that threshold with a 44% funding match.
In addition to integrating zero-emission vehicles and cargo-handling equipment into terminal operations, the project's goals are to reduce emissions at berth from non-regulated ships and accelerate the development of commercially viable zero and near-zero emission equipment.
To read the full release, click here.