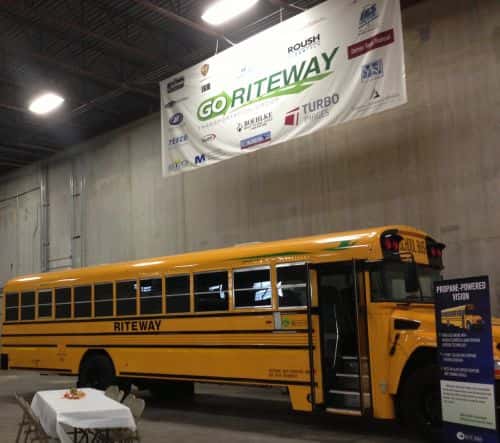 Transportation company GO Riteway is rolling out 20 new propane autogas buses for Oak Creek-Franklin Joint School District in Wisconsin: 10 new Blue Bird Vision full-size buses and 10 Micro Bird buses.
The 78-passenger Visions and 30-passenger Micro Birds meet U.S. Environmental Protection Agency and California Air Resources Board requirements, using ROUSH CleanTech's propane autogas fuel systems and Ford's 6.8-liter engine platform. The buses also meet all federal motor vehicle safety standards and regulations for school buses.
'School districts around the nation are eager for cleaner, lower emissions solutions that also work with their budgets,' says Phil Horlock, president and CEO of Blue Bird Corp. 'The Blue Bird propane-powered Vision and Micro Bird meet these needs, with lower fuel and maintenance costs, decreased noise and environmental benefits.'
GO Riteway will be paying approximately $2.00/gallon for propane autogas, compared to about $3.85/gallon for diesel. Propane autogas also nets GO Riteway a $0.50/gallon excise tax credit on fuel.
The company's first propane autogas vehicles were rolled out among its airport shuttle fleet in 2011.