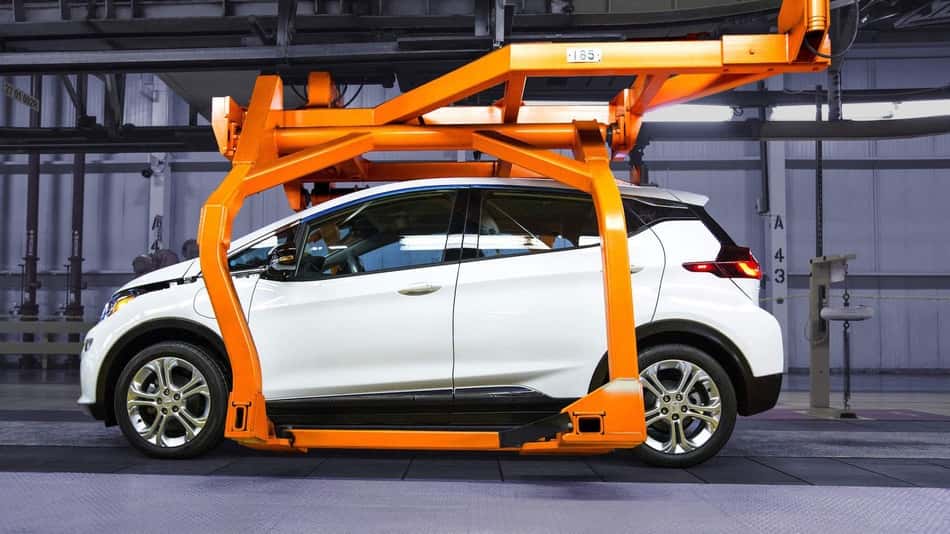 Although it won't go on sale until later this year, GM has begun pre-production of 100 2017 Chevy Bolt electric vehicles (EVs). Priced at around $38,000 before tax credits and boasting a 200-mile range per charge according to GM, the Chevy Bolt is looking to be the first affordable long-range EV on the market.
Pre-production vehicles are used for on-road testing, as well as to finalize production processes. GM has not yet said where the first Bolt EVs will be sold, but it will likely follow the same rollout strategy as the Chevy Volt plug-in hybrid, beginning in EV-friendly states, such as California and Washington, before going on sale nationwide.
Should GM stick to its timeline of beginning retail Bolt production at the end of this year, it would beat the Tesla Model 3 to market by about a year. This could give GM a tremendous advantage, as the Bolt will have no comparable rivals for the first year it is on sale. The Bolt's battery pack is supplied by LG Chem, which builds the lithium-ion batteries in Michigan near the Bolt's assembly facility.
The Chevy Bolt was first shown at the 2015 North American International Auto Show in Detroit, and GM confirmed soon thereafter that it intended to take it into production. The Bolt production model was revealed earlier this year at the Consumer Electronics Show in Las Vegas and stays loyal to the original Bolt concept.
The 2017 Chevy Bolt is slated to arrive in showrooms later this year.