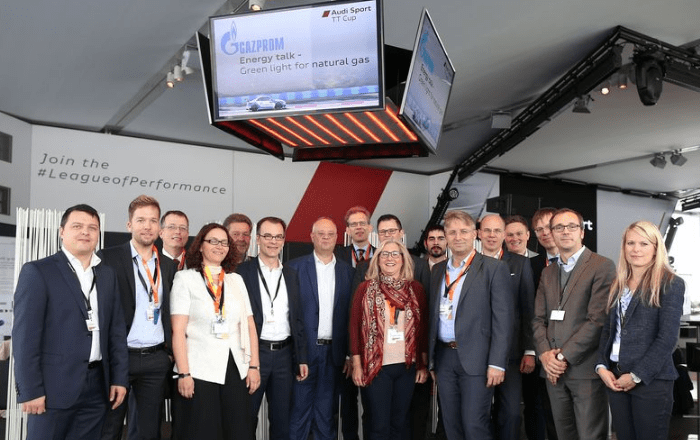 Gazprom and Audi, in partnership with Volkswagen, jointly held an energy conference focused on the contributions that natural gas; biomethane; and synthetic, renewable methane can make to foster the energy transformation in the mobility sector.
According to Gazprom, whose main business activities include the storage and trading of natural gas and natural gas for transport, all of the invited experts from the business, academia and media industries concluded that these low-carbon, methane-containing energy sources have been neglected far too much by policymakers in Germany.
Jens Andersen, group representative for natural gas mobility at Volkswagen AG, stated that the term "natural gas" still has a much-too-negative connotation for many people. He added that just the use of natural gas in road transport has considerable advantages for the environment, the economy and the driver, yet the ecological potential of compressed natural gas (CNG) mobility is far greater through the use of biomethane and synthetic methane from power-to-gas plants.
"Germany is currently not achieving its climate protection goals," said Timm Kehler, spokesman of the initiative Zukunft ERDGAS e.V. He said this was primarily due to the mobility sector, adding that there were fewer new registrations of CNG vehicles in Germany in 2016 than in the preceding years.
Matthias Maedge, general secretary of the international specialist association NGVA Europe, then laid out an ambitious goal for 2030, stating that by then, around 20% of all newly registered vehicles in Europe could be operated with natural gas if fair market conditions were created. He also pointed out that biomethane from organic residues, which is a virtually climate-neutral source of fuel, already accounts for 20% of the fuel quantities sold today at CNG pumps in Germany and Switzerland.
Kurt Sigl, president of the German Federal Association eMobilität e.V., also spoke in support of natural gas vehicles, calling for closer cooperation between all participants in order to achieve a significant reduction in carbon dioxide and nitrogen oxide emissions in the coming years.
The participants ultimately agreed that policymakers must make a clearer commitment to all sources of sustainable energy and that a prompt clarification of the legal framework is necessary.
"Policymakers must recognize the indispensable role that natural gas can play in the success of the energy transformation, also in the transport sector, and create a level playing field for all alternative fuels," emphasized Uwe Johann, managing director of Gazprom NGV Europe.