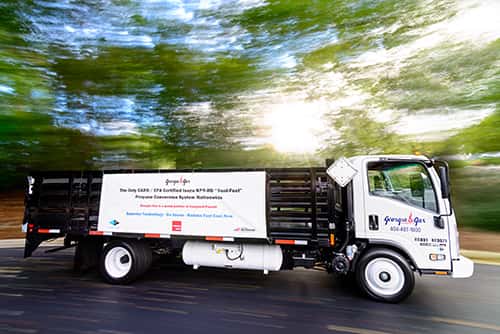 Georgia Gas Distributors has announced its commitment to the Campbell-Parnell propane dual-fuel system for years to come. The company has been granted California Air Resources Board and U.S. Environmental Protection Agency certification up until 2017 for the Isuzu NPR-HD with the propane duel-fuel conversion.
Further plans are to continue with this vehicle application and continue to provide the system for the Georgia market. Georgia Gas is in negotiations with several companies in the Atlanta market for propane conversion. The companies involved have a nationwide footprint, and an update will be sent in the following weeks to inform the public as to which companies converted.
"Gasoline has dropped, but so has propane; with the fuel rebate and lower taxes, we have maintained our margin over gasoline….our industry has never been busier…we have nothing to fear," says Steve Newman, program manager of alternative fuel vehicles at Georgia Gas Distributors.
According to Georgia Gas, the conversions costs less than $10,000 and takes about a day to install, so companies have minimal downtime.