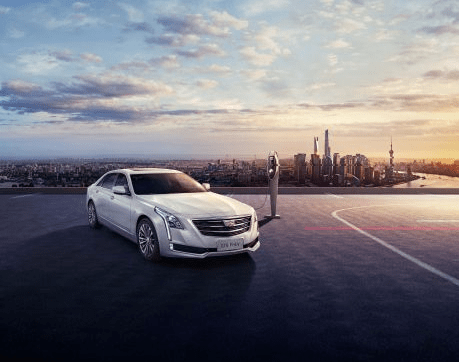 SAIC-GM has officially launched the newest member of the Cadillac CT6 American luxury sedan family – the CT6 Plug-In hybrid vehicle – in China. As reported, the hybrid is available in two variants priced at $80,400 (RMB 558,800) and $94,700 (RMB 658,800).
Built on GM's all-new intelligent rear-wheel electric drive platform, the CT6 Plug-In offers steady real-time power through two high-performance electric motors integrated with the car's electric drive system and a direct-injection 2.0 L SIDI turbocharged engine.
According to GM, the engine generates 250 kW of power and 586 Nm of torque, along with 0-100 km/h acceleration of only 5.4 seconds. Its combined fuel consumption is as low as 1.7 L/100 km, which is the best in its segment, the company says.
The CT6 Plug-In is fitted with an 18.4 kWh lithium-ion battery pack comprising 192 cells. GM notes that this capacity is up to 50% larger than competitive models. With the support of GM's battery management system and liquid cooling technology, this provides 80 km of all-electric range and 935 km of combined range.
Every cell in the battery pack has an independent liquid-cooled temperature control system, reducing the impact of varying external and internal temperatures. This not only improves battery efficiency and extends battery life, but also ensures the battery system's stability and safety.
GM says the CT6 Plug-In can be fully charged in five hours or less using a regular 220 V charger.
The company adds that an interface display shows the vehicle's battery life, power delivery and energy distribution. An "energy" interface on the Cadillac User Experience center console screen helps owners understand energy flow more intuitively and develop good electric driving habits through real-time feedback.
Notably, the CT6 Plug-In offers four transmission modes: all-electric drive, engine drive, hybrid drive and Regen on Demand.
The Regen on Demand system works with an iBooster to recover braking energy right after the driver releases the gas pedal. The system also uses paddle shifters to adjust between four levels of braking intensity.
Cadillac is offering CT6 Plug-In buyers nationwide a 220 V charger, with free installation, plus an eight-year, unlimited-mileage warranty for the vehicle's battery pack, electric motors and electronic control system.