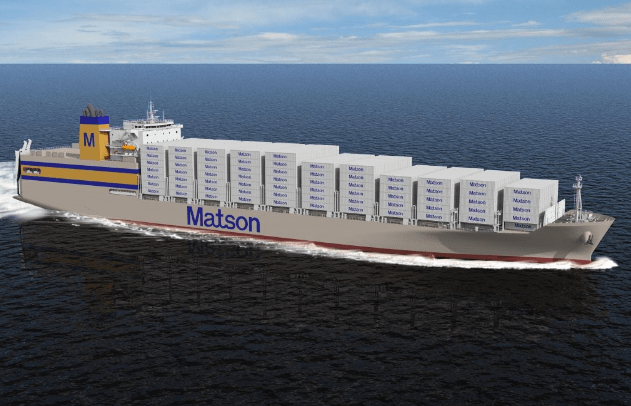 General Dynamics NASSCO, a wholly owned subsidiary of General Dynamics, says it has signed a contract with Matson Navigation Co. Inc., a wholly owned subsidiary of Matson Inc., for the design and construction of two liquefied natural gas (LNG) dual-fuel Kanaloa Class containerships, with roll-on, roll-off capability.
According to NASSCO, the 870-foot-long, 3,500 TEU containership design enables the transport of containers, automobiles and rolling stock, including trailers, via LNG-capable main and auxiliary engines. The company notes that the dual-fuel engines are compliant with Tier III emission requirements, and the design accommodates future installation of an LNG fuel gas system.
The two Kanaloa Class ships will replace three diesel-powered vessels in active service, which will be moved to reserve status. Once delivered, the vessels will serve a trade route between the continental west coast and Hawaii.
"We are pleased to be working with NASSCO again on new vessels for Matson. NASSCO's deep history and reputation for quality give us confidence that these new ships will be the most advanced efficient and productive vessels in our fleet," says Matt Cox, president and CEO of Matson. "Our last NASSCO vessel, RJ Pfeiffer, has been a mainstay of our Hawaii service, and we look forward to adding the superior performance of these new Kanaloa Class vessels to the fleet."
In addition to the dual-fuel engines, the new vessels will have other state-of-the-art green technology features, including a fuel-efficient hull design, environmentally safe double-hull fuel tanks and fresh water ballast systems. These advancements are significant as a means to reduce fuel consumption and emissions in Hawaii, encouraging cleaner transportation overall.
Construction of the first containership will begin in early 2018, with deliveries in 2019 and mid-2020, respectively. The ships will be constructed at the NASSCO shipyard in San Diego.
In the past decade, NASSCO delivered 28 ocean-going ships to government and commercial customers – including the world's first LNG-powered containerships.