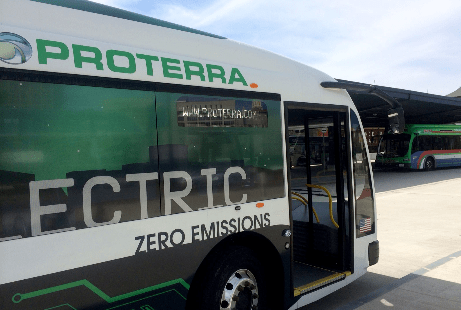 Proterra, a developer and manufacturer of zero-emission vehicles, says the eight new and existing customers that won Federal Transit Administration Low or No Emission Vehicle Deployment (Low-No) grants intend on using the funds, totaling $22.8 million, to purchase 35 Catalyst buses.
According to Proterra, this move will bring the company's total number of firm orders to 287 vehicles from 38 cities across the U.S. With more than 2.4 million miles of revenue service, Proterra states that it has more battery-electric buses on the road today in North America than any other manufacturer.
For Low-No grant recipients, such as the Santa Clara Valley Transportation Authority (VTA), this represents a new era of mobility, as the Silicon Valley's transit agency expects to roll out five 40-foot Catalyst XR buses in a pilot program, which aims to improve the transit customer experience; offer better transportation choices; and optimize VTA vehicles, roadways and other mobility infrastructure.
Other innovative transit agencies that have embraced the economic and environmental benefits of Proterra's zero-emission electric bus and that also received Low-No grants include the following:
Delaware Transit Corp. (Wilmington, Del.) will receive six 35-foot Catalyst XR buses;
Everett Transit (Everett, Wash.) will receive four 40-foot Catalyst XR buses;
Lextran (Lexington, Ky.) will receive one 40-foot Catalyst FC bus;
Park City Transit (Park City, Utah) will receive six 40-foot Catalyst FC buses;
Pierce Transit (Pierce County, Wash.) will receive two 40-foot Catalyst FC buses;
Port Arthur Transit (Port Arthur, Texas) will receive six 35-foot Catalyst FC buses; and
SporTran (Shreveport, La.) will receive five 35-foot Catalyst FC buses.
"For so long, transit agencies had little choice when it came to mass transit solutions, so we take great pride in the fact that we are enabling the national shift from fossil fuel to electric," says Ryan Popple, CEO of Proterra. "This additional wave of orders underscores our nation's commitment to democratize and decarbonize transit, which is a key enabler of prosperity, job security and improved air quality."