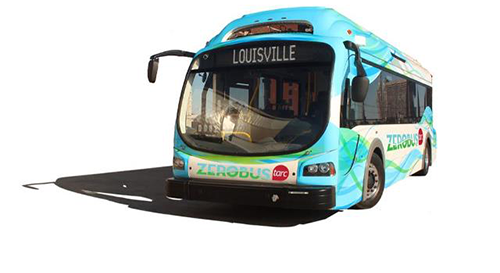 The Federal Transit Administration (FTA) has awarded nearly $55 million in grants to help put low- and zero-emission buses on the road in communities across the U.S. The 10 winning project teams will deploy either fuel cell, battery electric or electric hybrid buses.
FTA Senior Advisor Carolyn Flowers made the announcement in Louisville, Ky., home of one of the grant recipients: the Transit Authority of River City (TARC).
'As the nation's population and transit ridership continue to rise, we must invest in innovative technologies that will help transit agencies like TARC expand their bus fleets and bring a new generation of energy-efficient buses to Louisville and cities and towns nationwide," said Flowers. "These grant awards will also help create new jobs and support a growing industry of domestic manufacturers who are developing advanced technologies to power public transportation for the future."
FTA is providing the grants through its Low or No Emission Vehicle Deployment Program (LoNo). The agency notes that demand for LoNo funding far exceeded available funds, with FTA receiving 50 project proposals requesting a total of $200 million.
Some of the selected projects include the following:
TARC, the transit agency for the Louisville, Ky., and southern Indiana area, will receive $3.3 million to deploy five Proterra battery-electric buses and a fast charging station. The zero-emission buses will increase TARC's fleet of battery-electric buses, and the charger will work with TARC's existing chargers to expand the area that the battery-electric buses serve.
Sunline Transit Agency, in partnership with the Southern California Association of Governments, will receive $9.8 million to deploy five hydrogen electric hybrid fuel cell buses. Ballard Power Systems, BAE Systems and ElDorado National will team up to build the new zero-emission buses, which will increase Sunline's current fleet of fuel cell buses and allow the agency to offer expanded transit service in the Coachella Valley area of Southern California.
The Red Rose Transit Authority (RRTA) in Lancaster, Pa., will receive approximately $2.6 million to purchase 17 electric hybrid buses to replace current diesel models that are at the end of their useful life. BAE Systems and Gillig will manufacture the new buses. Fourteen of the vehicles will go to RRTA, and three will go to the Berks Area Regional Transportation Authority (BARTA). The two agencies, which serve Berks and Lancaster counties in Pennsylvania, recently merged their management and administrative functions to create the South Central Transit Authority. Each agency will retain the RRTA and BARTA names on their buses.
California-based consortium CALSTART, which will work with Sunline and two other transit agencies on winning projects, has praised FTA's announcement.
"This critical FTA program will help spur the growth of the advanced tech bus industry in the United States, which is a crucial part of the effort to meet our national air quality and climate challenges," said CALSTART President and CEO John Boesel.
For a full list of the FTA awardees and their projects, click here.