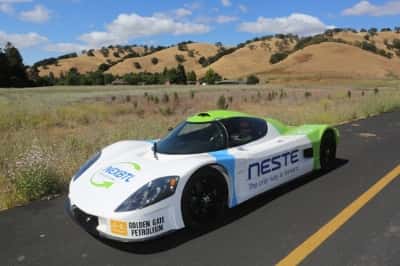 A team of motorsport enthusiasts is aiming to drive a car from the Atlantic Coast of Florida to the Pacific Coast of California on just one tank of Neste NExBTL renewable diesel fuel.
As part of what Neste has dubbed its 'One Tank Across the USA Challenge,' the team will attempt to travel 2,400 miles on Interstate 10 through eight states from June 21 to 26.
The car will be a Superlite Coupe (SLC) custom-built by CLP Motorsports. According to Neste, the vehicle has the aerodynamics necessary for maximum efficiency and is enhanced by a lightweight aluminum monocoque chassis and fiberglass body. The SLC also has all of the handling of a racecar, but it is street legal and is powered by a modified Volkswagen 1.9-liter TDI diesel engine.
Neste says its NEXBTL renewable diesel, produced from bio-based raw materials, can replace petroleum diesel on a drop-in basis due to having the same chemical properties as ultra-low-sulfur diesel. It is fully compatible with all diesel engines and can also reduce carbon dioxide emissions compared to conventional diesel by as much as 90% over its lifecycle, according to the company.
The driver team includes Tanner Foust, a four-time X Games gold medal winner, three-time U.S. Rallycross champion and two-time Formula Drift champion. Other drivers are Pat O'Keefe, vice president of Golden Gate Petroleum and owner of CLP Motorsports; Luke Lonberger, an experienced motorsports driver and general manager at CLP Motorsports; and Michel von Disterlo, a lead mechanic at CLP Motorsports.
'Americans have a long tradition of taking cross-country road trips, sometimes aiming for speed records, sometimes just making a leisurely jaunt. One team is taking a different approach to this long-distance challenge in the middle of June 2015: drive coast-to-coast on one tank of fuel made of completely bio-based raw materials. We believe this may be a first time for this type of trip,' says Kaisa Hietala, Neste's executive vice president of renewable products.
For more information on Neste's One Tank Across the USA Challenge, click here.