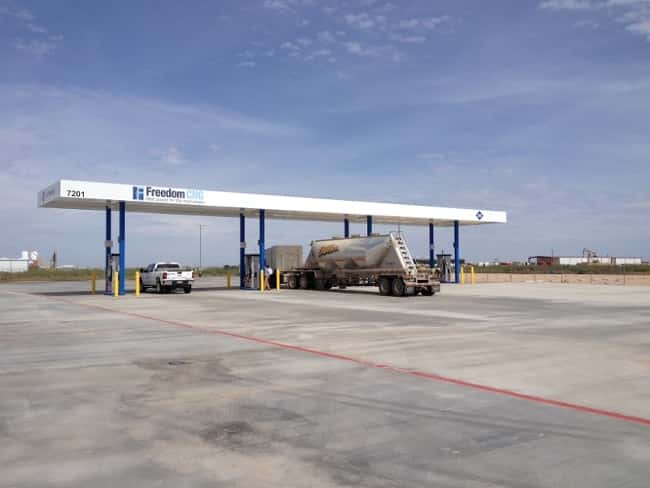 Freedom CNG has announced the opening of a new compressed natural gas (CNG) fueling station, located in Texas between Midland and Odessa off Interstate 20. Equipped with high-speed compressors, the station is in a key location between El Paso to the west and Dallas to the east.
Open 24 hours a day, the new Freedom CNG fueling station, located at 7400 West County Road 116, east of the Midland Airport, is the only CNG fueling station in the Permian Basin capable of fueling eight large vehicles at the same time. The station's fill rate of 12 gallons per minute is faster than many other stations in the area, according to Freedom CNG.
"Eight CNG-powered trucks can fill up at our new station simultaneously, without waiting in line, in as little as eight minutes compared to fueling times of over 30 minutes at other stations," says Freedom CNG President Bill Winters. "That's a big difference to a trucker who is trying to maximize the number of loads he can haul per day."
The well-lit, truck-friendly facility also provides approximately one acre of paved turning space for the largest trucks, he adds.
The new CNG fueling station is the first for Freedom CNG in Midland. The Texas-based company operates three CNG fueling stations in Houston, including its newest north Houston station, which also fuels METRO's new fleet of 50 CNG-powered transit buses.
Texas has become a hub for CNG fuel stations and vehicles, with an estimated 150 filling stations and over 9,000 CNG-powered vehicles on its roads.