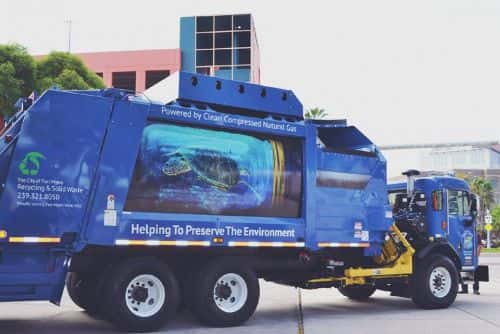 Last week, the City of Fort Myers, Fla., officially unveiled a new fleet of compressed natural gas (CNG) refuse trucks.
A city announcement says the Fort Myers solid waste division will operate the 17 new CNG trucks, adding, 'CNG produces significantly less pollutants than diesel.'
Furthermore, the announcement notes the trucks are decorated with images to represent the city's environment, and the solid waste division has also added a new symbol incorporating the green recycle symbol to all of its vehicles.
'The City of Fort Myers has a goal to be recognized as a 'green' city. This is one more step in that direction," says Saeed Kazemi, public works director, in the announcement.
According to a local NBC2 report, the city helped pay for the new CNG trucks with a federal grant and will also get state rebates.
Photo courtesy of the City of Fort Myers' official Facebook page