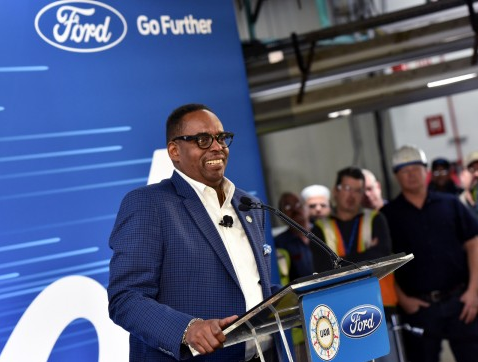 In a recent announcement, Ford Motor Co. has confirmed seven of the 13 new electrified vehicles (EVs) it plans to introduce in the next five years – including hybrid versions of the iconic Mustang and F-150 pickup in the U.S.; a plug-in hybrid Transit Custom van in Europe; and a fully electric SUV with an expected 300-mile range available globally – and has canceled its plans to build a new $1.6 billion manufacturing plant in San Luis Potosi, Mexico.
Instead of building the Mexico facility, the automaker says it will invest $700 million to expand its Flat Rock Assembly Plant in Michigan into a factory that will build high-tech autonomous vehicles and EVs, along with the Mustang and Lincoln Continental. As reported, the expansion will create 700 direct new U.S. jobs.
During the presidential campaign, President-elect Donald Trump repeatedly criticized Ford for moving jobs outside of the U.S. Although Mark Fields, Ford's president and CEO, says the president-elect wasn't directly involved in the decision to scrap the Mexico plans, his proposed policies certainly were a factor.
"We look at all factors, and in our view, we see a more positive U.S. manufacturing environment under President-elect Trump and the pro-growth policies and proposals that he's talking about," Fields says. "So, this is a vote of confidence for President-elect Trump and some of the policies he may be pursuing."
In the announcement released yesterday, Ford says it is focusing its EV plan on its strengths – electrifying its most popular, high-volume commercial vehicles, trucks, SUVs and performance vehicles.
Specifically, the seven confirmed EVs to be introduced in the coming years include the following:
An all-new fully electric small SUV, coming by 2020, engineered to deliver an estimated range of at least 300 miles, to be built at the Flat Rock plant and sold in North America, Europe and Asia;
A high-volume autonomous vehicle designed for commercial ride hailing or ride sharing, starting in North America. The hybrid vehicle will debut in 2021 and will be built at the Flat Rock plant;
A hybrid version of the F-150 pickup available by 2020 and sold in North America and the Middle East. The F-150 Hybrid, built at Ford's Dearborn Truck Plant, will offer powerful towing and payload capacity and operate as a mobile generator;
A hybrid version of the Mustang that will deliver V8 power and even more low-end torque. The Mustang Hybrid, built at the Flat Rock Plant, debuts in 2020 and will be available in North America to start;
A Transit Custom plug-in hybrid available in 2019 in Europe engineered to help reduce operating costs in even the most congested streets; and
Two new, pursuit-rated hybrid police vehicles, one of which will be built in Chicago. Both will be upfitted with their police gear at Ford's dedicated police vehicle modification center in Chicago.
The company says these efforts are part of a $4.5 billion investment in EVs by 2020, offering customers greater fuel efficiency and power across Ford's global vehicle lineup.
"As more and more consumers around the world become interested in electrified vehicles, Ford is committed to being a leader in providing consumers with a broad range of electrified vehicles, services and solutions that make people's lives better," says Fields. "Our investments and expanding lineup reflect our view that global offerings of electrified vehicles will exceed gasoline-powered vehicles within the next 15 years."
In addition, Ford has announced that its global utility lineup will be the company's first hybrids powered by EcoBoost rather than naturally aspirated engines, improving performance and fuel economy.
The company also plans to be as aggressive in developing global EV services and solutions, including EV fleet management, route planning and telematics solutions.
"Innovative services can be as important to customers as the electrified vehicles themselves," says Hau Thai-Tang, group vice president of purchasing. "We are investing in solutions to help private customers, as well as commercial fleet owners, seamlessly incorporate these new vehicles and technologies into their lives."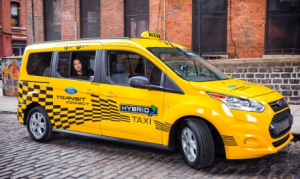 In addition, in New York and several other major U.S. cities, Ford says it is testing a fleet of 20 Transit Connect hybrid taxi and van prototypes in demanding traffic conditions.
These Transit Connects build on the success of the Ford Escape Hybrid – which the company says was the world's first hybrid SUV and the first North American-built hybrid. Many Escape Hybrid taxis are still on the road today and still use their original batteries.
For the full release, click here.
Photos courtesy of Ford Motor Corp. – Mark Fields and Jimmy Settles (pictured), UAW vice president, National Ford Department, Ford Motor Co., announce Ford'€™s $700 million investment at its Flat Rock Assembly Plant to create a factory capable of producing high-tech EVs, creating 700 new U.S. jobs.