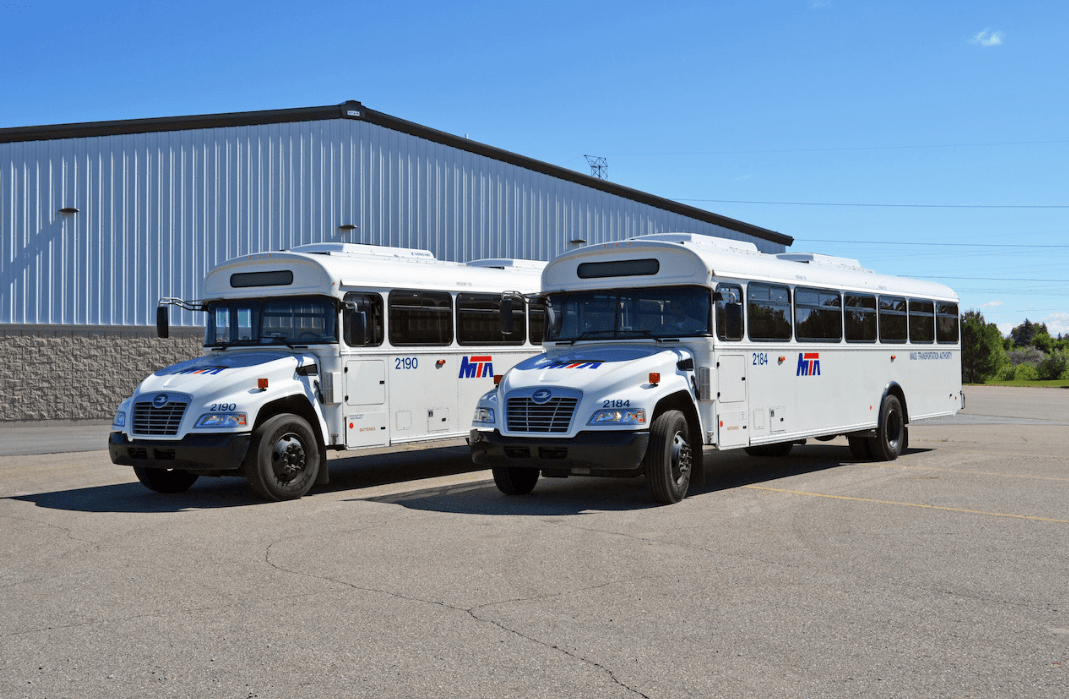 The Flint, Mich., Mass Transportation Agency (Flint MTA) has purchased 16 Blue Bird propane autogas buses in what the agency is calling the largest rollout of Blue Bird Propane Visions for commercial use.
According to the Flint MTA, the new alternative fuel buses cut costs, take advantage of a domestically produced fuel and reduce harmful emissions. As reported, each bus will cut down on 800 pounds of nitrogen oxide and 35 pounds of particulate matter annually compared with the diesel buses they replaced.
"Blue Bird Propane Vision buses allow Flint to provide green, affordable public transportation while saving taxpayer dollars," said Ed Benning, general manager and CEO for the Flint MTA.
The Flint MTA says it purchased the buses with Federal Transit Administration (FTA) funding. The FTA New Model Bus Testing Program (known as Altoona testing) rates new buses on safety; structural integrity; and durability, reliability, performance, maintainability, noise and fuel economy.
"These federal funds cover 80 percent of the alternative fuel vehicle cost, with a 20 percent local match," Benning explained. "The MTA worked closely with Blue Bird to 'Altoona-test' the bus – an outcome that will benefit all transit agencies that acquire these buses."
The commercial version of the Blue Bird Propane Vision, which comes with a five-year, 100,000-mile warranty, is Altoona-test rated for 350,000 miles or 10 years. Each 39-seat bus is equipped with a 6.8 L Ford engine, a ROUSH CleanTech fuel system and a 100-gallon fuel tank.
"In the few months since the MTA started using these buses, they are achieving a 325-mile range per tank," Benning said. "They were purchased as commercial buses and upfitted as public transit buses, with transit windows, seating and two wheelchair positions.
"In addition to providing cleaner operations, the propane autogas-fueled, medium-duty buses cost only one-third of the price of heavy-duty transit buses, so they are an extremely cost-effective way to augment our transit bus fleet," Benning said.
The Flint MTA says it locked in a yearlong rate of $0.75/gallon for propane autogas, which helps the agency budget fuel costs. With the current federal alternative fuel tax credit, its per-gallon cost is $0.39. The agency averages 20,000 miles per month on the buses, using them for six hours daily during peak service route times.