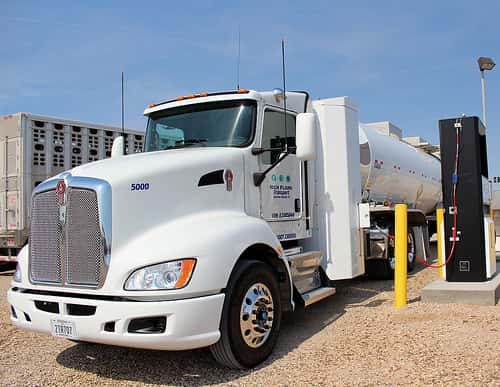 Seaboard Foods, the producer and distributor of the PrairieFresh and Daily's food brands, has deployed two Kenworth T660 Class 8 compressed natural gas (CNG) trucks in its fleet and will be adding another 43 CNG-powered T800 trucks in the coming months.
These natural gas vehicles – all of which feature the new ISX12 G natural gas engine from Cummins Westport – will refuel at two new CNG stations that Seaboard Foods built near its biodiesel plant in the Oklahoma panhandle. High Plains Bioenergy, a company subsidiary, is using the first two CNG T660s to transport biodiesel from the plant to customers in the region.
'The availability of a 12-liter natural gas engine really makes it possible for our operation to run CNG-powered trucks because it provides the right amount of power and torque for the loads our trucks carry,' says Terry Holton, president and CEO of Seaboard Foods.
'The new Cummins Westport ISX12 G engine also provides a better operational fit for many operators, such as Seaboard, because it provides as much as 80 hp of additional power and 450 pounds of additional torque compared to the peak rating of the 8.9-liter Cummins Westport ISL G engine,' adds Andy Douglas, Kenworth's national sales manager for specialty markets.
Kenworth currently offers the ISX12 G for the Kenworth T660 and T800 short hood (116.5-inch BBC) models. Also available for heavier applications is the T800 standard hood (122.5-inch BBC) with the Westport 15-liter natural gas engine.