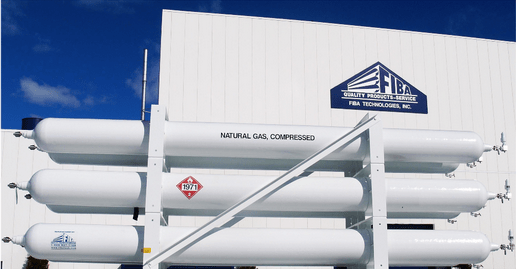 FIBA Technologies Inc., a company that specializes in providing gas-containment equipment and services, says it is now stocking compressed natural gas (CNG) tubes in multiple locations in the U.S. to ensure that both fleets and CNG station developers have quick and reliable access to CNG storage equipment.
The company now notes that three locations will warehouse FIBA products for CNG applications: Littleton, Mass.; Louisville, Ky.; and Adelanto, Calif. Additionally, the company says it provides service from those three sites, as well as from offices in Midvale, Ohio; Rayne, La.; and East Greenville, Pa.
FIBA Technologies has served the industrial gas, chemicals, offshore oil and gas exploration, and diving markets for over 50 years, and now, FIBA products are used in a wide variety of additional industries, including electronics, photovoltaic energy and renewable fuels.
FIBA says its current offering of CNG equipment includes superjumbo tube trailers, diaphragm, onboard and mobile compressors; ASME receivers and trailer-mounted systems; and stationary daughter fueling stations, including pressure reducing stations, tube trailer fill stanchions and cascade controls.
As previously reported, FIBA Technologies' three-pack ASME vessels were selected to handle the on-site CNG storage for Clean Energy Fuel Corp.'s refueling station in New Hampshire, which was completed last July. Further, FIBA's CNG storage tubes were utilized at Stripes Convenience Stores' two public-access CNG fueling sites located in Midland, Texas.