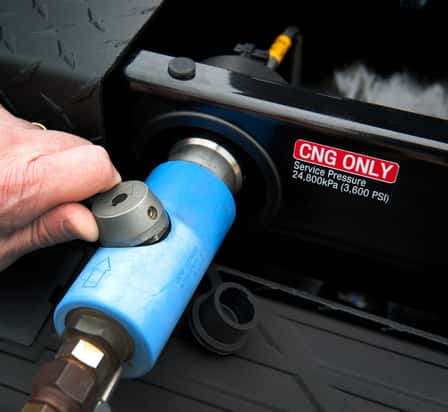 Two of the major U.S. automakers, Ford Motor Co. and General Motors, will be fortifying their 2014 and 2015 model years with nearly end-to-end alternative fuel solutions for major fleet vehicle platforms.
Representatives from the companies were on hand this week during the 10th annual AltWheels Fleet Day event outside of Boston to encapsulate the key alt-fuel and advanced powertrain offerings that these OEMs have announced in recent months. And without doubt, it has been a busy year for GM and Ford, which have rolled out multiple alt-fuel options across a wide spectrum of vehicle classes.
Take, for instance, the 2014 Chevy Cruze diesel sedan, which first debuted in North America in February. Jay Ferraro, regional East Coast fleet account executive for GM Fleet & Commercial, told attendees that the diesel powertrain for the Cruze is a 'truly revolutionary' addition to GM's portfolio.
'This is a big one for us,' he said, emphasizing the Cruze diesel's EPA-estimated 46 miles per gallon.
Ferraro further noted that a number of his colleagues at GM Fleet have observed actual fuel economy of the Cruze diesel exceeding 50 mpg. One Cruze diesel logged 717 miles on a single tank of fuel, he said.
Moreover, the 2014 Cruze is also available in an EPA-certified bi-fuel compressed natural gas (CNG) configuration. This vehicle conversion is handled by longtime GM partner IMPCO Automotive, which installs an 8.4 GGE Type 3 CNG tank and CNG fuel system on the Cruze, yielding approximately 200 miles of driving range.
GM's footprint in the gaseous fuels arena also extends beyond passenger vehicles, into light- and medium-duty truck and van applications.
Just last week, GM announced that dedicated CNG systems would be available on model-year 2014 Chevrolet Express and GMC Savana full-size passenger vans, joining existing CNG-powered cargo-van versions of these popular models. The dedicated CNG passenger vans, which use GM's 6.0-liter Vortec V-8 engine, feature three CNG cylinders and about 200 miles of driving range.
And in late September, GM previewed the model-year 2015 Chevy Silverado HD and GMC Sierra HD bi-fuel CNG pickup trucks, as well as Duramax-diesel-powered versions of these vehicles, which will be compatible with B20 biodiesel.
Like the GM vans, the CNG Silverado HD and Sierra HD also feature the 6.0-liter Vortec V-8. What's more, GM will be offering CNG systems on both the 2500 and 3500 platforms in regular, double and crew-cab configurations.
Propane autogas is also covered in GM's suite of vehicle offerings, spearheaded by an autogas system option for its 4500 cutaways. These vehicles are available with either three- or four-tank configurations, the former of which carries 35 gallons of autogas and yields a 315-mile driving range.
Ford has been similarly comprehensive with its gaseous-fuel portfolio, partnering with its Qualified Vehicle Modifiers (QVMs) to deliver both CNG and propane autogas solutions across a big swath of the fleet vehicle space.
In the medium-duty class, for instance, Ford QVM ROUSH CleanTech rolled out a dedicated propane system for the Ford F-650 chassis cab and F-59 stripped chassis this spring. CNG conversions are also available for these platforms from IMPCO, Westport and Landi Renzo.
The Ford gaseous-fuel QVMs also convert trucks and vans in lighter weight classes, and the complement of vehicles offered with prep packages for CNG and propane has ballooned to cover just about every platform: the E-Series wagons and cargo vans, F-Series Super Duty pickup trucks (F-250 and F-350), F-350 chassis cab, Transit Connect, and more.
But perhaps most notable was Ford's announcement in July that it would be rolling out a gaseous-fuel prep package for the 2014 F-150 half-ton pickup.
During AltWheels Fleet Day, Ford's Jon Coleman said that he has never seen such extensive press coverage of a niched product, noting that major media outlets in countries where the F-150 isn't even available have been abuzz about the CNG-powered truck.
'I haven't stopped doing media interviews for two months,' he said.