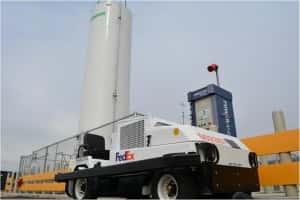 FedEx Corp., in collaboration with the U.S. Department of Energy (DOE), Plug Power Inc. and Charlatte America, has introduced what it says is the world's first zero-emissions, hydrogen fuel cell ground-support equipment (GSE).
Under a $2.5 million grant awarded from the DOE, FedEx is operating 15 hydrogen fuel cell-powered Charlatte GSEs and a Plug Power Inc. hydrogen fueling station.
These GSE cargo tractors are now part of a fleet of more than 1,500 gas, diesel and electric cargo tractors at the FedEx World Hub at Tennessee's Memphis International Airport. The entire fleet moves an average of 20 million pounds – approximately 2 million shipments – every day.
The new units are fueled by hydrogen, dispensed directly into the fuel cell systems by the truck driver from a 15,000-gallon liquid hydrogen fueling infrastructure located on the airport ramp.
'While these hydrogen fuel cell-powered cargo tractors may not look big, they are capable of pulling 40,000 pounds of cargo on airport dollies in even the harshest weather conditions,' says John Dunavant, vice president of the FedEx Express World Hub.