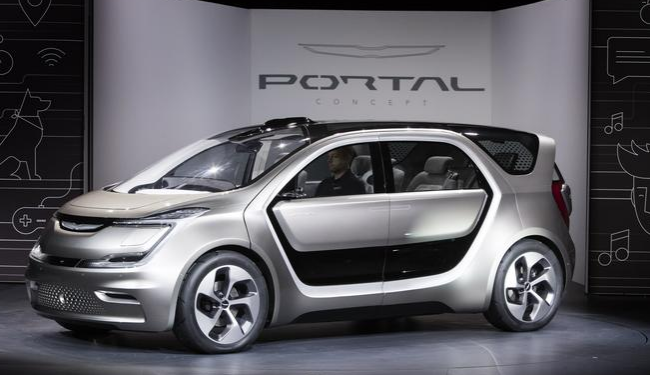 FCA US LLC, the American subsidiary of Fiat Chrysler Automobiles N.V., has unveiled the Chrysler Portal concept, an all-electric, semi-autonomous interpretation of the "fifth generation" of family transportation focused toward millennials.
When it came to thinking about the future of family transportation, FCA US says it called upon the people who will own and live with such a vehicle – millennials working inside the company's design and engineering functions – to collaborate on ideas.
Armed with research on millennial values and desires, the team developed the Chrysler Portal concept – created by millennials for millennials.
According to FCA US, millennials are tech savvy, environmentally aware and cost conscious. To balance those needs, the Chrysler Portal is designed to maximize interior space, with a significant degree of flexibility between seating and cargo configurations; enable users to include and expand their social media communities, with wireless integration between the vehicle and mobile devices; take advantage of technology advances in battery-electric powertrains and the growth of a rapid recharging network; and deliver these capabilities in a high-tech form that uses LED lighting as a key design element.
"The Chrysler Portal concept is backed by significant research on the millennial generation. Millennials have clearly defined that they want a vehicle that will grow with them as they experience life changes," says Tim Kuniskis, head of passenger car brands – Dodge, SRT, Chrysler and FIAT, FCA – North America. "It was essential that we fully explored the idea of what a vehicle could look like for this emerging generation."
The millennial generation, defined as people born between 1982 – 2001, has become the largest demographic. In the next 10-plus years, most will be at a point in their lives when they will begin to start or will have started a family; 75% of all children will have a millennial parent, and there will be 4 million more children than today.
The company says that based on its internal research, millennials will want a vehicle that is reflective of their personality, offers value and flexibility, integrates advanced technology, and is socially responsible. The adaptability and technology features also make it ideal for business and commercial applications, such as ride hailing, car sharing and delivery services.
An all-electric vehicle, the Chrysler Portal concept is propelled by a single electric motor driving the front wheels. A lithium-ion battery pack, rated at around 100 kWh, is integrated into the vehicle underbody, which increases structural rigidity and provides a low center of gravity, which enhances handling and ride comfort.
The Chrysler Portal concept is estimated to have more than 250 miles of range on a full charge.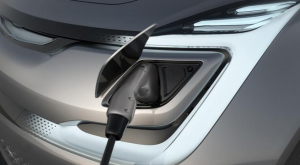 The integrated charging port, located at the front of the vehicle, uses the industry-accepted Combined Charging System plug for energy and communication between the vehicle and charging equipment. DC Fast Charging at 350 kW enables the battery pack to be recharged for 150 miles of range in less than 20 minutes.
According to the company, its battery-electric vehicle technology contributes to cabin spaciousness, with a minimized engine compartment and a low, flat-load floor atop the battery pack that is ideal for transporting people and equipment for an active lifestyle.