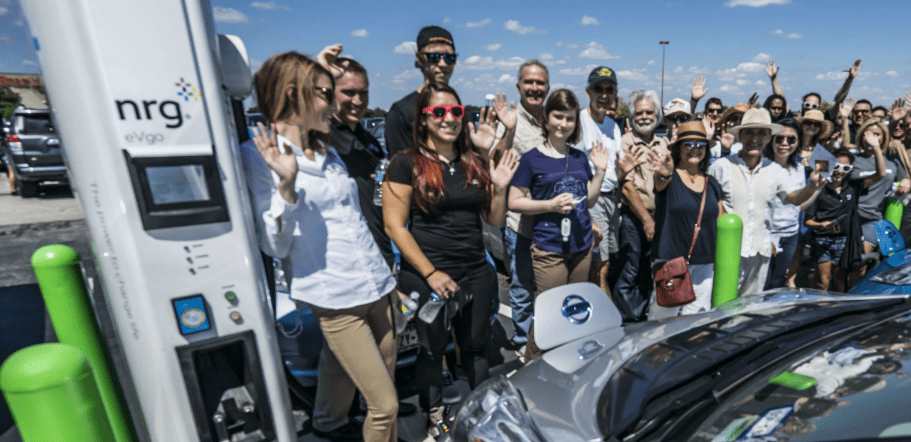 EVgo, a public fast-charging network for electric vehicles (EVs), says it will be offering free EV charging for drivers participating in National Drive Electric Week from Sept. 10 through Sept. 18.
Throughout the week, drivers with a valid EVgo charging card can charge for free at any of EVgo's 1,000 charging locations in over 50 metro markets. This year's promotion is one of 200 other National Drive Electric events taking place across the country, seeking to celebrate the increasing availability of plug-in vehicles and highlighting the consumer benefits making EVs the future of transportation.
"National Drive Electric Week is a celebration of the electric lifestyle. One advantage of driving electric is never having to stop at a gas station again. This week, EVgo will make it even sweeter by making your public charging free nationwide," said Terry O'Day, EVgo's vice president. "Our network is growing rapidly and, together with our drivers, is making the EV movement unstoppable."
Since its development, EVgo has worked closely with automakers, including Nissan, BMW and Ford, to develop a vehicle-centric customer experience and bring both faster charging speeds and more charging locations. EVgo currently operates over 700 fast chargers in more than 50 top metro markets across the U.S. Last year alone, EVgo's public high-speed charging network delivered more than 21 million EV miles, saving nearly 900,000 gallons of gas and offsetting nearly 10 million pounds of carbon dioxide.
EVgo's network includes DC Fast CHAdeMO and DC Fast Combo plugs to serve a variety of different vehicles, from the Nissan LEAF to the BMW i3. These chargers are compatible with American, European and Japanese dominant standard vehicles and provide power at a rate about 10 times faster than home charging stations. At most stations, EVgo also provides Level 2 charging stations for vehicles that do not accept fast charging.
During the entire week, EVgo will suspend billing for all session fees at their network stations when a driver uses a valid EVgo card – including partner cards, such as EZ-Charge with Nissan and ChargeNow from BMW – to initiate the session.