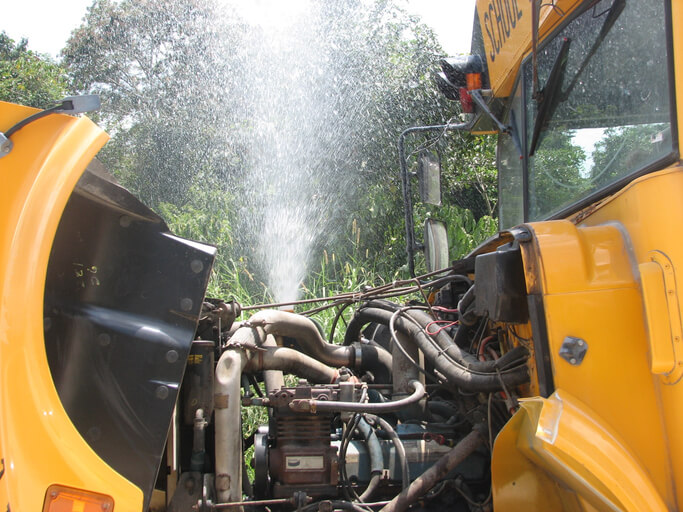 In a series of announcements made last Thursday, the U.S. Environmental Protection Agency (EPA) has awarded a slew of new grants in support of reducing air pollution from school buses. The awards are part of the EPA's more than $8.7 million national effort to replace or retrofit 452 older diesel school buses this year. In total, funds will go to 141 school bus fleets in 32 states, each of which will receive rebates through the EPA's Diesel Emissions Reduction Act funding.
The latest grants are as follows:
1) $900,000: nine Virginia school districts
2) S20,000: the Swann Bus Co. in Leonardtown, Md.
3) $100,000: the Estill County Board of Education in Kentucky
4) $532,000: 16 Iowa school districts
5) $640,000: 20 Kansas school districts
6) $20,000: the Di Giorgio Elementary School District in Arvin, Calif.
7) $745,000: 18 Missouri school districts
8) $180,000: six Nebraska school districts
9) $460,000: five New York State school districts
10) $20,000: the Durango School District 9-R in Colorado
11) $20,000: the Harrisburg School District in South Dakota
12) $524,000: four New Jersey school districts
13) $200,000: the Winston County Board of Education in Double Springs, Ala.
14) $200,000: the Lee County School District in Florida
15) $40,000: the Union County Schools in Kentucky
"These rebates are an innovative way to improve air quality across the country and provide kids with safe, reliable transportation to and from school," says Scott Pruitt, EPA administrator. "Through the Diesel Emissions Reduction Act, EPA is equipping local school districts with cleaner-running school buses, helping them along the route to healthier kids and communities."
Applicants replacing buses with engine model years of 2006 and older will receive rebates between $15,000 and $20,000 per bus, depending on the size of the bus. Applicants also had the option of retrofitting school buses with engine model years between 1994 to 2006 with a Diesel Oxidation Catalyst, Closed Crankcase Ventilation system, and Fuel Operated Heater to reduce toxic emissions. The EPA will fully fund the cost of these devices up to $6,000.