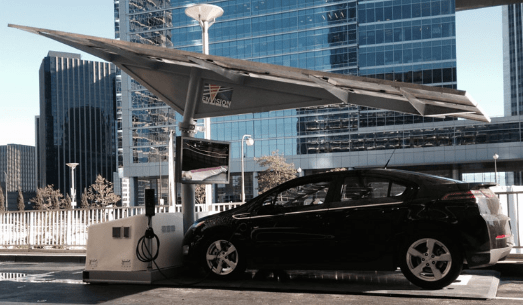 Envision Solar International Inc., a renewable energy, media and branding, and electric vehicle (EV) charging product company, says that New York state has issued a purchase order for the company's EV ARC product.
According to Envision Solar, the company had previously delivered the EV ARC product to New York City, but this is the first purchase order from New York state. The product will deliver solar-powered EV charging to state employees and visitors, as well as the state's NEVs, which are used for educational programs and habitat maintenance.
The company says that the first EV ARC deployed for New York state will be equipped with a digital screen, which will deliver educational and other useful information to visitors at the Reinstein Woods Nature Preserve.
"Through Governor Cuomo's nation-leading Reforming the Energy Vision strategy, New York state is committed to protecting the environment, reducing greenhouse-gas emissions and helping the state transition to renewable energy. The installation of Envision Solar's solar-powered EV charging station, or EV ARC, is another critical step in New York's efforts to reduce our carbon footprint," says Meaghan Boice-Green, director of the New York State Department of Environmental Conservation's Reinstein Woods Nature Preserve.
As previously reported, the EV ARC fits inside a parking space and generates enough clean electricity to power up to 150 miles of EV driving each day. The energy is stored in the EV ARC product's energy storage for charging day or night. Because the EV ARC product does not require any installation work, it can be deployed in minutes and moved easily from one location to the next.