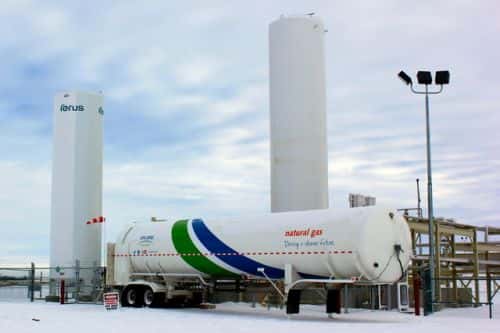 Encana Corp. has commissioned its Cavalier liquefied natural gas (LNG) facility in Alberta, Canada – a key initial step in bringing higher volumes of natural gas to heavy-duty trucking and other fleets in western Canada and elsewhere.
The first customers of the new facility include Calgary-based Ferus Inc., an energy services company, and the Canadian National Railway Co. (CN). Last year, CN announced that it is testing two mainline diesel-electric locomotives fueled mainly by natural gas. Encana is providing complete LNG fueling solutions to CN for this pilot project.
The Cavalier facility will receive feedstock from Encana's nearby Cavalier gas plant. The natural gas is then treated to remove impurities and to cool the gas to -160 degrees C, at which temperature it reaches a liquid state. The LNG is then stored in cryogenic tanks on-site for truck fueling or bulk-tanker loading.
'There is a very strong value proposition for natural gas use in the transportation sector, given that the fuel is 20 to 40 percent less expensive than gasoline or diesel, in many regions,' says Eric Marsh, executive vice president of Encana Corp.
Encana is also pursuing an LNG production facility near Grande Prairie, Alberta, and the company owns and operates an LNG fueling station in Louisiana, 10 mobile LNG fueling stations and seven compressed natural gas (CNG) stations.