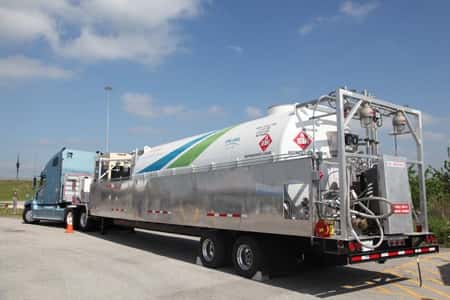 As a part of its newly released 'Corporate Responsibility Report' for 2011, behemoth natural gas producer Encana Corp. highlighted a number of measures the company has taken in the past year to promote the use of natural gas as a transportation fuel.
It is little surprise that Encana, with such a large stake in natural gas, is getting behind downstream applications. Nonetheless, its efforts are spurring activity in a number of areas, and the company is putting hustle behind its muscle.
Closest to home, Encana continued to expand its own fleet of natural gas vehicles (NGVs) last year. The company currently operates more than 250 compressed natural gas (CNG) vehicles in the U.S., drawing from CNG refueling sites in Louisiana, Colorado and Wyoming. Encana also has about 75 CNG bi-fuel vehicles in use as a part of its Canadian operations. These vehicles are fueled at two company-owned stations in Strathmore and Drumheller, Alberta.
In Louisiana, Encana formed an important partnership with Heckmann Water Resources (HWR), which is in the midst of rolling out more than 200 heavy-duty trucks that run on liquefied natural gas (LNG).
HWR hauls water for natural gas producers that are drilling and extracting in the Haynesville shale in northwestern Louisiana. Encana, HWR's exclusive fuel supplier, fuels the fleet using its own mobile LNG fueling stations.
The company also made a number of direct strategic investments to advance natural gas-based transportation. For instance, Encana provided a $500,000 grant to support the City and County of Denver in its fleet conversion, beginning with the purchase of 15 heavy-duty CNG-powered refuse trucks. Colorado's Roaring Fork Transit Authority also received a $365,000 grant from Encana to cover the incremental cost of acquiring 22 CNG-powered buses.
Helping to move the company's agenda forward is its 'Natural Gas Economy' group, which Encana says 'works collaboratively with federal, state, provincial and local agencies to create policies and establish incentives so that service companies, fleet owners, utility companies, our peers and individuals see the value in using natural gas as a transportation fuel.'
Advocacy work conducted in concert with organizations such as the American Natural Gas Alliance and American Gas Association during 2011 was aimed specifically at bolstering the NGV market through 'outreach, education and infrastructure development,' Encana notes.
For the balance of 2012, the company says it will continue to pursue many of the same strategies, strengthen existing programs, and develop new relationships that will drive a higher adoption of NGVs and the build-out of the associated fueling infrastructure.
Photo: One of Encana's mobile LNG fueling units. Courtesy of Encana