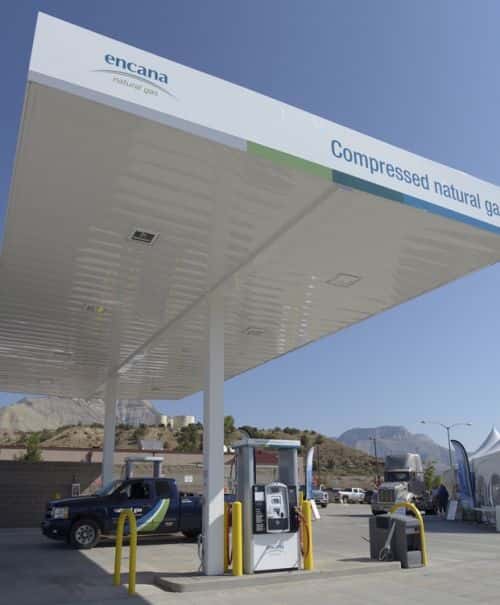 Encana Natural Gas Inc. opened a new compressed natural gas (CNG) fueling station on Wednesday in Parachute, Colo. – the company's eighth facility in the U.S. and Canada.
Encana owns and operates this public-access facility, which is co-located with a Shell station at County Rd. 215 and 2nd St. Registered Colorado natural gas vehicles (NGVs) with valid CNG decals, as well as out-of-state NGVs, can refuel at the site.
Two fueling islands – each with one dual-hose dispenser – were designed to accommodate all NGVs, including heavy-duty trucks. The station's capacity is 2.08 GGE/minute, with a peak one-hour fueling rate of 295 GGE.
On-site compression includes a single compressor package from ANGI Energy Systems that features a 150 hp electric driver and a four-stage Ariel JGQ/2 frame compressor. CNG is stored on site in six ASME tubes (60,000 scf at 4,500 psi) in a cascading configuration.
The station is open 24/7, Encana adds.