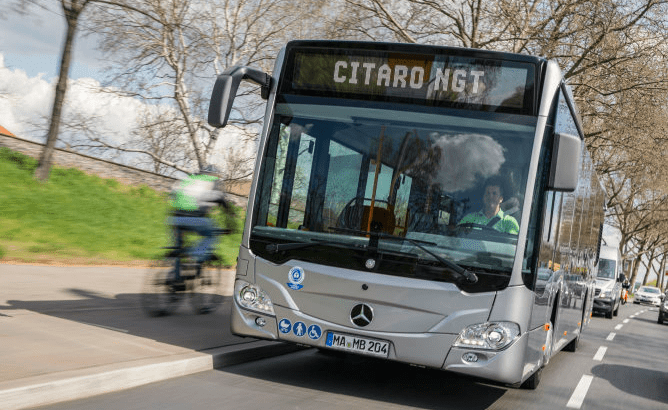 EMT Madrid, a Spanish municipal transport operator, has ordered a total of 82 natural gas technology (NGT) buses, including 40 Mercedes-Benz Citaro 18-meter articulated buses and 42 Mercedes-Benz 12-meter rigids.
According to Daimler's release, the new Citaro NGT features a vertically installed six-cylinder, in-line mono-fuel engine that runs on compressed natural gas (CNG) or biogas. The company asserts that the new buses are approved without restriction for the use of renewable natural gas to DIN 51624, making for an even smaller carbon footprint.
In addition to its low CO2 emissions, these new buses also will have a low noise level, which, as the company asserts, makes the Citaro NGT especially suitable for service in busy inner cities, residential areas or old-town districts with high numbers of tourists. EMT says that the new buses will operate in the City of Madrid, including on one of Madrid's main avenues in the center of the capital.
EMT Madrid says it currently has a fleet of 1,920 buses, which cover just under 1 million kilometers each year while transporting 425 million passengers. The network has a length of around 3,600 kilometers, with approximately 10,000 stops.