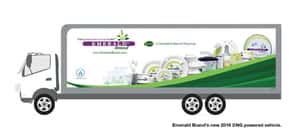 Emerald Brand has announced its conversion to Penske Truck Leasing and compressed natural gas (CNG)-fueled trucks. Emerald's New York-based fleet will move to CNG this month and will refuel at Clean Energy Fuels CNG stations.
According to Emerald, this conversion will greatly reduce the company's environmental footprint by lessening the amount of gas emissions released into the air as compared with traditional diesel-fueled vehicles.
"We are always striving to discover new ways to help the environment and reduce our footprint, and the conversion to CNG-fueled trucks was the next sustainable step for our company to help deliver our products to clients in the most environmentally friendly way possible," says Emerald Brand Managing Director Jaclyn McDuffey. "Penske Truck Leasing has been a great partner by offering options and guidance in this transition to greener vehicles."
Established in 1997, Emerald Brand produces everyday disposable products from sustainable, alternative materials.