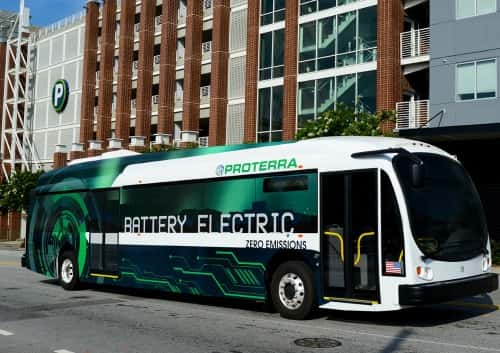 Proterra, a South Carolina-based battery-electric bus manufacturer, says it has raised $55 million in strategic financing. According to the company, this signals a new growth phase for Proterra as the manufacturer scales production to meet growing demand and accelerates cash realization.
Proterra has closed a $30 million Series 4 equity round led by $19 million from several new strategic investors. The existing major investors in Proterra added $11 million of equity.
In conjunction with the equity financing, Proterra has completed a debt financing in an amount up to $25 million with Hercules Technology Growth Capital Inc. The strategic debt financing will provide long-term debt capital to fully fund Proterra's new manufacturing facility in California, which was recently awarded a state grant to support clean vehicle technology growth. In addition, Proterra says the Hercules debt facility expands the bus maker's access to working capital, a critical component of growth financing as production volume increases.
By simultaneously securing a strategic debt facility and a large growth equity financing, Proterra says it will finish the second quarter of this year fully funded to expand into the West Coast markets, ramp production to meet growing demand and continue to invest heavily in future generations of electric vehicle transit technology.
Photo courtesy of Proterra