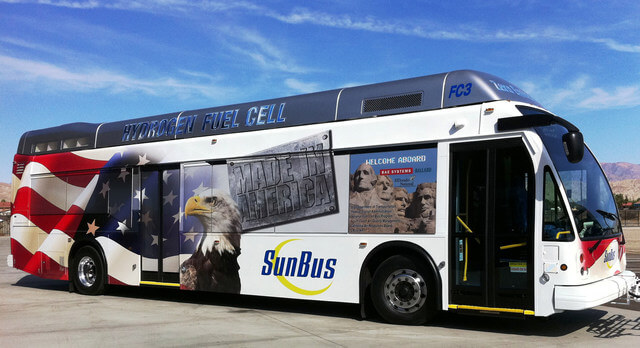 ElDorado National's fuel cell electric buses (FCEBs), powered by Ballard FCveloCity-HD modules, have completed rigorous testing at the Altoona Bus Research and Testing Center under a program established by the Federal Transit Administration (FTA), Ballard Power Systems has announced.
Furthermore, the ElDorado National FCEBs are now eligible for a $300,000 voucher incentive under the California Hybrid and Zero-Emission Truck and Bus Voucher Incentive Project (HVIP). The California Air Resources Board and HVIP are focused on accelerating the purchase of cleaner, more efficient trucks and buses in California, explains Ballard.
The 40-foot Axess FCEBs are now available for sale with the substantial HVIP incentive in California.
"With these positive results, fuel cell technology will now be a viable and production-ready technology for transit operators looking for zero-emission travel," says Mike Ammann, vice president of sales for ElDorado. "With the ability to refuel within 20 minutes and a proven transit duty cycle range of over 200 miles, the Axess FCEV is the only zero-emission transit bus that can seamlessly integrate into existing transit fleets."
ElDorado National has previously produced 20 FCEBs at its Riverside, Calif., plant – all powered by Ballard – in collaboration with BAE Systems and under the American Fuel Cell Bus program. The latest version of ElDorado National's Axess FCEB offers additional hydrogen storage, thereby extending the range beyond 300 miles.
"We are delighted to be working with a leading bus OEM in ElDorado National," comments Rob Campbell, Ballard's chief commercial officer. "Successful completion of testing at the Altoona facility represents a key milestone and, together with HVIP eligibility, will unlock the potential for zero-emission fuel cell buses in California. Transit agencies throughout the United States can now acquire Altoona-tested fuel cell buses powered by Ballard."