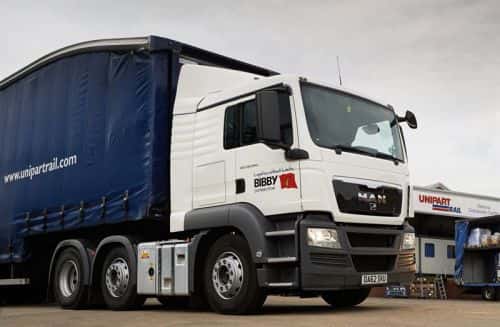 Bibby Distribution, one of the largest U.K.-based logistics providers, has integrated dual-fuel propane autogas systems on five heavy-duty tractors that the company operates on behalf of Unipart Rail.
'Fuel usage comes with both financial and environmental costs, so we were delighted when Bibby Distribution proposed a solution that would help cut both without compromising on service,' says Duane Trower, logistics operations director at Unipart Rail. 'We're already seeing substantial savings both in terms of cash and carbon emissions, and we'll be breaking even on the investment in less than 18 months.'
The five MAN TGS 26.440 LS trucks were converted to use both diesel and LPG by G-Volution at a cost of about $14,000 per vehicle. The conversion consists of an on-board LPG tank and computerized optimizer that analyzes engine output requirements during vehicle operation and sources fuel from either the propane or diesel tank, as required.
Bibby Distribution also installed autogas refueling infrastructure at the vehicles' home facility in Doncaster, allowing for simple refueling for the return-to-base trucks.
In the U.K., bulk diesel fuel costs more than twice as much as autogas.
'Escalating costs and cutting emissions are continual challenges for 3PLs, but dual-fuel vehicles are a genuine long-term solution,' says Robert Earl, contract manager at Bibby Distribution.