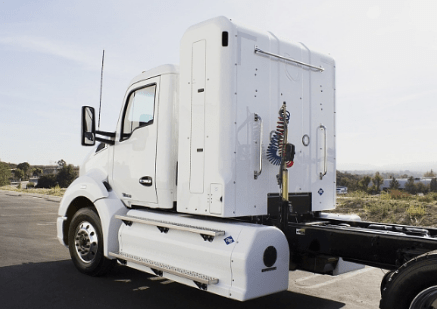 Douglas Acquisitions LLC, a family-owned $1 billion private equity firm based in northern California, says it has completed its acquisition of Quantum Fuel Systems Technologies, a Lake Forest, Calif.-based provider of compressed natural gas (CNG) storage systems, integration and vehicle system technologies.
Effective immediately, the acquired company will be known as Quantum Fuel Systems LLC, to be wholly owned by Douglas.
Going forward, Quantum will continue to provide its CNG technology while being financially positioned to continue to grow its business operations. According to a Quantum spokesperson, immediate enhancements are expected in customer service, support and product offerings.
Since 2013, Quantum has seen rapid growth, earning a market share in excess of 40% for over-the-road CNG heavy-duty vehicles in North America. According to Quantum, this was accomplished through a portfolio of CNG storage system products that includes Q-Cab back-of-cab storage modules and the Q-Rail storage modules that are installed horizontally on the rails of heavy-duty trucks.
Quantum is also commercializing its virtual pipeline trailer (available in 500 and 650 thousand Standard Cubic Feet of Storage) – a high-capacity transport trailer that optimizes the logistical efficiency of transporting CNG (and other gaseous fuels) by utilizing its proprietary Q-Lite CNG storage tanks at 5,000 psi. The company says the virtual pipeline trailer will debut later this year.
The Quantum acquisition expands Douglas' portfolio of automotive investments, as the company has owned KSR International Inc. – a company that designs, engineers and manufactures an array of products for the transportation industry, including automotive sensors, electronic throttle controls, adjustable and fixed pedals, electric steering control units, and power modules – since 1976.
In 2014, Douglas authorized KSR's formation of a consortium that launched Alternative Fuel Containers LLC, which aims to develop natural gas storage tanks to minimize refueling time and maximize miles driven per tank. According to Douglas, the Alternative Fuel Containers tank design is based on using metal organic framework adsorbent to capture natural gas at the molecular level.