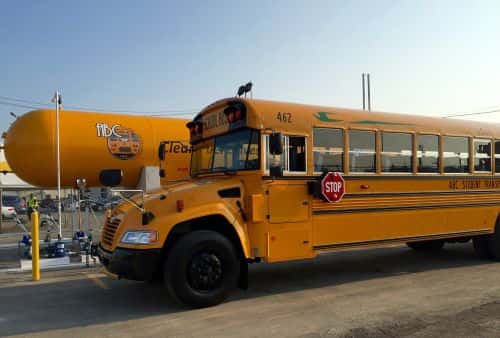 Beginning this school year, many Detroit Public Schools (DPS) students will ride to and from school in buses fueled by propane autogas, as the district's transportation company has added 35 Blue Bird Vision Propane buses to its fleet.
'The use of propane autogas school buses is a step in the right direction to significantly decrease vehicle emissions and improve the air quality for our students. This also provides opportunities for students and the community to observe and learn first-hand about alternative transportation technologies,' says James Minnick, executive director of DPS' office of student transportation. 'This environmentally friendly green initiative has also resulted in having a bus fleet that is 30 percent brand new.'
ABC Student Transportation, DPS' transportation provider, chose buses fueled by autogas because of the vehicles' advanced technology, environmental benefits, and fuel and maintenance cost reductions, according to ABC President Charlie Grant.
To fuel the new buses, ABC installed a station with a 12,000-gallon propane tank near its facility on Westwood St. Currently, the company pays $0.74/gallon for propane autogas compared with around $3.00/gallon for diesel.
The Blue Bird Vision buses are equipped with a Ford 6.8-L V10 engine powered by ROUSH CleanTech propane autogas fuel systems.
"The adoption of propane autogas buses shows ABC Student Transportation's commitment to implement buses powered by a fuel that is cleaner for Detroit's students and the community, lowers operating costs and is domestically produced," comments Phil Horlock, president and CEO of Blue Bird. "This is a great example of how the City of Detroit is being innovative in everything they do."
"Propane-autogas-powered school buses offer advanced fuel technology for school districts looking for more-efficient operation while experiencing a positive return on investment," adds Todd Mouw, vice president of sales and marketing for ROUSH CleanTech.