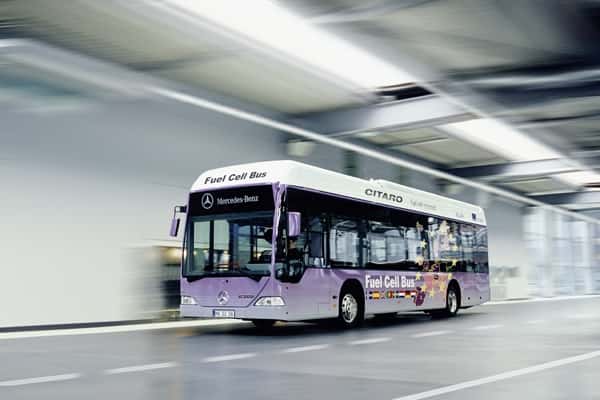 Daimler Buses says it will debut two alternative fuel buses, the all-electric Citaro E-CELL and the hydrogen fuel-cell-powered Citaro F-Cell, by 2018. The two buses will join Daimler's offerings of efficient diesel and compressed natural gas transit buses. Both buses are based on a joint E-Mobility platform.
Daimler Buses will bring both powertrain concepts to production standard and on the roads by 2018. In the development of these technologies, different vehicle divisions are also working together on the road to emission-free driving. For example, the integration of the new electronics platform B2E in the Citaro is even more powerful, more reliable and more flexible thanks to joint development. The working area for the driver was also upgraded again with a larger color display and simplified operating elements for the heating, ventilation and air conditioning.
With the Advanced Emergency Braking System, the touring coaches of the Mercedes-Benz and Setra have an emergency brake assistant that is already more powerful than required by the law. In an emergency, the current version of the Active Brake Assist can even activate automatic braking in the case of standing obstacles.
Daimler Buses is also taking a pioneering role with the introduction of the new LED headlights in the Citaro urban bus and the Setra TopClass 500 and ComfortClass 500 touring coaches. The new light technology is efficient and durable in addition to being subjectively perceived as more pleasant , as the light distribution is more homogeneous and the color of the light corresponds to that of daylight.