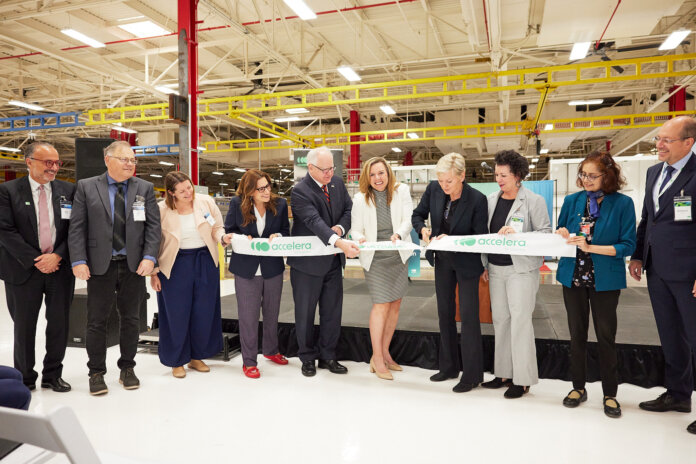 Accelera by Cummins, the zero-emissions business segment of Cummins Inc., has initiated operations for electrolyzer production in Fridley, Minn. – its first electrolyzer production site in the U.S.
"Large-scale electrolysis to produce green hydrogen is a key piece in the decarbonization of transportation and industry," says Amy Davis, president of Accelera. "The electrolyzer production capacity we are adding in Fridley will help us scale zero-emissions technologies in North America to meet customer demand and advance adoption."
Accelera is initially dedicating 89,000 sq. ft. of the existing Cummins facility in Fridley to electrolyzer production, adding 100 new jobs by 2024. The facility will produce the HyLYZER proton exchange membrane (PEM) electrolyzer product line, including the HyLYZE®-500, HyLYZER-1000 and HyLYZER-5000, which can accommodate power needs from 1.25 MW to more than 200 MW for both small- and large-scale hydrogen generation projects.
The facility will have 500 MW of production capacity annually, with plans to scale up to 1 GW of capacity in the future.
Notably, Accelera already powers the world's largest PEM electrolyzer system in operation, in Bécancour, Quebec.
In addition to electrolyzers for hydrogen production, Accelera's portfolio includes fuel cells that run on hydrogen, as well as battery and electrified systems that complete a battery-electric or fuel-cell electric powertrain.