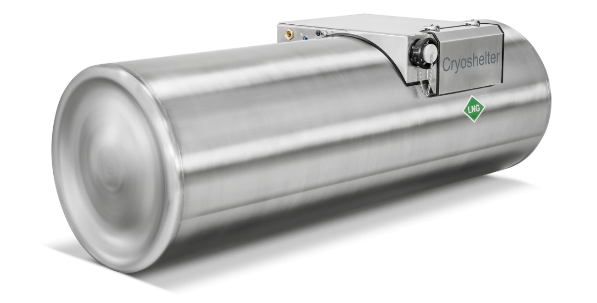 Cryoshelter GmbH, an Austrian-based liquefied natural gas (LNG) technology company, has introduced its Second Generation LNG tank for heavy-duty trucks.
According to the company, Cryoshelter's Second Generation tank reduces the overall total cost of ownership by providing benefits and options that address the key performance factors for truck fleet operators beyond other available LNG tanks. As such, the company expects its new tank will transform the commercial prospects of LNG as a fuel alternative to diesel in Europe, North America and elsewhere.
Cryoshelter says that its cryogenic thermal insulation system relies on two key innovations built into the vacuum space in between the cryogenic inner tank and the surrounding outer vacuum shell: the Inner Tank Support (ITS) and the Cryoshelter Shield Technology.
The ITS, patents pending, dramatically lowers the heat losses while improving the load-bearing capacity by its design and location – the outer circumference at the ends of the tank. The efficiency of the ITS allows the use of the same modular parts so that tanks can be built to specification for a wide range of different sizes – from 270 liters to 750 liters.
The Cryoshelter Shield Technology provides 10 times the specific reflective thermal insulation capacity as multi-layer-insulation technologies used in current LNG tanks. The shield technology's patented suspension system reduces the insulation gap, which increases the fuel capacity up to 20%. The efficiency of Cryoshelter's thermal insulation systems leaves enough space to further improve the insulation performance for extended hold time options – keeping the fuel cold longer without increasing the insulation gap.
Also, unlike many LNG tanks, Cryoshelter places the manifold housing – fuel connector, safety valves, etc. – on the side of the tank to provide user-friendly operation and maintenance. Moving the valves and controls from the end of the tank adds up to 10% fuel capacity, the company notes.
The company says the tank has been certified to the United Nations Economic Commission for Europe's Regulation 110.
Having completed the last step in the pre-commercialization certification process, Cryoshelter says it will now ramp up its industrialization efforts, focusing on the retrofit LNG truck market while continuing to address the truck manufacturers in Europe.
Matthias Rebernik, Cryoshelter CEO, says, "We are excited about the breadth and volume of the interest already shown by truck manufacturers and fleet operators in the innovative Cryoshelter LNG tank. Ultimately, we will bring our Second Generation LNG storage system to a wide variety of transportation customers worldwide who are adopting clean-burning liquefied natural gas as a propulsion fuel. As the market expands, Cryoshelter will continue to work on additional technical enhancements to the tank system to meet the needs of the truck industry."
Photos courtesy of Cryoshelter.