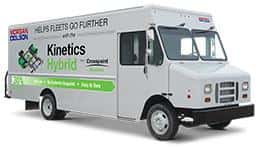 Crosspoint Kinetics, a subsidiary of Cummins Crosspoint, has announced an alliance with walk-in van producer Morgan Olson to make Kinetics Hybrid-powered delivery vehicles available to customers throughout North America.
Under the partnership, Crosspoint says its Kinetics Hybrid system will be offered on Morgan Olson's Class 3-7 delivery vehicles.
The parallel electric hybrid system bolts on to the driveline and captures kinetic energy while slowing and braking. It transforms energy into electricity that is stored in ultracapacitors, where it can be used as incremental power to launch and accelerate the vehicle. Crosspoint claims users have reported up to 30% more miles per gallon with its system.
"Our company will always seek ways to meet our client's changing needs," says Rich Tremmel, vice president of sales and marketing at Morgan Olson. "Our clients are looking for a simpler solution to lowering their operating costs while reducing environmental impact. In many cases, the Kinetics Hybrid is that right solution."