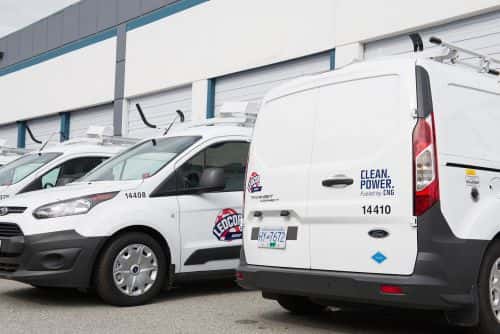 The Ledcor Group, a large construction firm based in Vancouver, is acquiring more than 200 model-year 2014 and 2015 Ford Transit Connect cargo vans equipped with compressed natural gas (CNG) fuel systems.
The vehicles' CNG systems are from Altech-Eco, and the conversions were performed by Ontario-based G.W. Anglin Manufacturing.
'Converting a significant portion of our light-duty vehicle fleet makes good economic sense,' says Scott Lyons, chief operating officer of Ledcor Technical Services. 'We estimate we'll reduce our annual fuel costs by about 30 percent.'
The company already has 15 Class 8 trucks that run on liquefied natural gas (LNG).
'Not only were they one of the first fleets in Canada to operate factory-built natural gas highway tractors, [but] their new fleet of Ford Transit Connect cargo vans is unprecedented in scale,' says Alicia Milner, president of the Canadian Natural Gas Vehicle Alliance.
Ledcor notes that its new CNG Transit Connects will be deployed in British Columbia, Alberta and Saskatchewan.