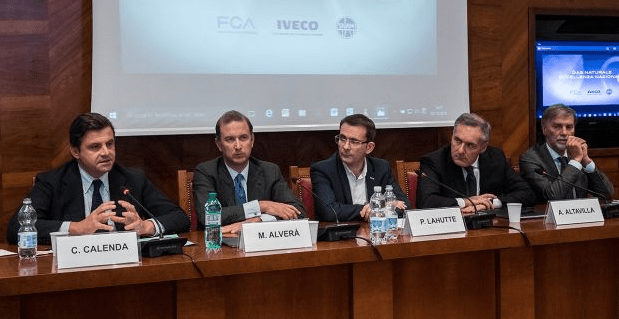 Executives from FCA, IVECO and Snam have signed a memorandum of understanding (MoU) aimed at fostering the development of natural gas as a fuel for road vehicles as part of a wider set of initiatives to promote sustainable mobility.
According to a release from FCA, the MoU was signed by Alfredo Altavilla, the chief operating officer of FCA in the EMEA Region; Pierre Lahutte, IVECO brand president; and Marco Alverà, CEO of Snam, in the presence of Italy's Minister of Economic Development Carlo Calenda and Minister of Infrastructure and Transport Graziano Delrio.
Under the terms of the MoU, the three companies will actively cooperate to boost the further development of methane for vehicle usage in the form of compressed natural gas (CNG), as it is an immediately available and more sustainable alternative to traditional fuels that's capable of bringing benefits to consumers, companies and public administration.
FCA says it is pursuing the development of alternative fuel motors as a key pillar in its strategy, having recently developed its range, which is now composed of 12 models.
IVECO has developed a complete range of both CNG and liquefied natural gas (LNG) vehicles, from the light commercial vehicle, Daily, to the urban bus, Urbanway, and the new Stralis LNG for long-haul transport, launched last June. According to the release, these initiatives highlight the potential of methane as a fuel for commercial vehicles, public transport vehicles and public service vehicles.
Snam, a European company in the construction and management of infrastructure for the natural gas market, will provide its  experience in the sector by investing approximately EUR 200 million over the next five years to foster the development of facilities for the supply of CNG. This will help in expanding the number of methane service stations, currently at around 1,100, improving customer service quality and ensuring a more balanced distribution of filling stations throughout Italy.
FCA says the doubling of the current number of CNG service stations to more than 2,000 over the next 10 years in line with the DAFI Directive currently in implementation will be the main factor to help achieve the growth target for the CNG fleet of over 3 million vehicles.
According to FCA, this will result in a direct benefit of EUR 1.5 billion for natural gas technology and more than EUR 1 billion in overall infrastructure investments for the development of methane filling stations, with significant benefits also to employment.