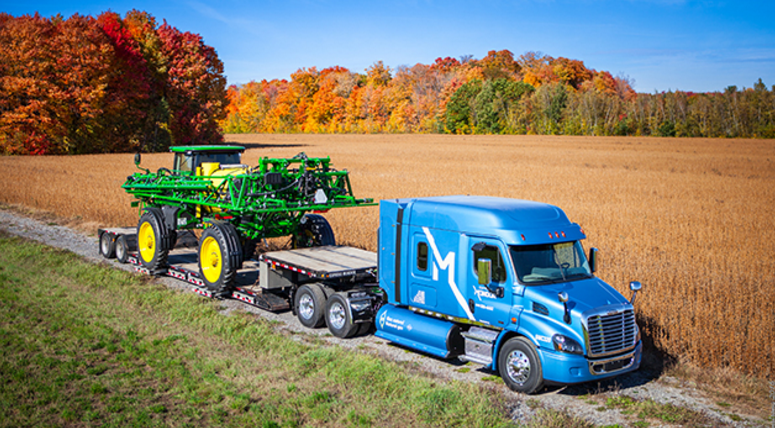 Express Mondor, U.S. Venture GAIN Clean Fuel Canada and Gaz Metro have announced that a new public compressed natural gas (CNG) fueling station will be built along Highway 40, on the north side of the industrial park, in Lanoraie, Quebec.
According to the companies' joint release, this station is the ninth in the Blue Road natural gas fueling network and will enable Express Mondor's new truck fleet to fill up on the alternative fuel, reducing the company's energy expenses and the environmental impact of its activities.
Construction work on the new station, which represents an investment of $3.5 million from GAIN Clean Fuel and Express Mondor, has begun and should be complete before the end of 2016. Gaz Metro will supply the station with natural gas.
"We chose to partner with GAIN Clean Fuel to build this station to secure our position at the leading edge of our industry. Moreover, we have undertaken to acquire 50 new CNG trucks over the next few years to continue to provide stellar service to our customers across North America, while also improving our energy and environmental performance," says Billy Mondor, vice president of business development at Express Mondor.
Thanks to its CNG-powered trucks, Express Mondor will save considerably on fuel costs and gain as much as 30% in efficiency per kilometer, in addition to decreasing greenhouse-gas emissions up to 25% with its new trucks.
"Gaz Metro is delighted to see the new GAIN Clean Fuel station become the ninth in the Blue Road: a network of public natural gas fueling stations that allows carriers to roll with less emissions, while offering advantages in terms of both energy efficiency and pump prices. Today's announcement confirms that transport companies recognize the many benefits of natural gas as an alternative to diesel," says David Vincent, Gaz Metro's director of business development and renewable energy. "We salute Express Mondor for their clear shift toward natural gas and hope that other carriers will follow suit to remain at the industry forefront."