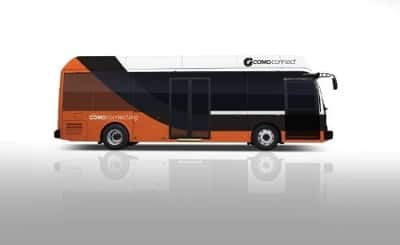 COMO Connect, a public transit agency serving Columbia, Mo., has announced it is adding battery-electric transit buses to its fleet. Beginning Sept. 1, manufacturer BYD Coach & Bus will deliver the first of four units to COMO.
'This is a historic moment for both the city of Columbia and the state of Missouri,' says Mike Matthes, city manager of Columbia. 'This decision by the City of Columbia and COMO Connect is yet another example of the forward-thinking attitude toward technology and transportation that contributes to making Columbia great. I could not be more proud.'
COMO says the first bus will be a 40-foot transit bus used to experiment on a number of different routes around the city, namely the #1 Black Core Connector, one of the city's longest and most popular bus routes. The next three buses, slated to be delivered later this year and start service Dec. 1, will be BYD's 30-foot, low-floor transit models and used as commuter shuttles.
'Our decision to go electric extends far beyond cleaner air and doing the right thing,' comments Drew Brooks, multi-modal manager of Columbia. 'These buses are incredibly quiet and will drastically reduce noise pollution along the routes. Additionally, they will save Columbia hundreds of thousands of dollars in fuel and maintenance costs and enable us to begin other improvements to our system even sooner.'