Coca-Cola is making a big move toward light-duty fleet electrification with the announcement that the company is deploying 100 new 2014 Chevrolet Express service vans featuring hybrid-electric powertrains from XL Hybrids.
Coca-Cola – which has already initiated heavy-duty fleet electrification with plug-in electric vehicles in greater San Francisco – found that initial tests of vehicles using XL Hybrids' technology showed fuel-consumption reductions of 15% to 20% versus existing vans. That pilot program took place over the course of a year within the fleet's normal service operations, Justin Ashton, XL Hybrids' co-founder and VP of business development, tells NGT News.
The Express 3500 vans that Coca-Cola specifies for its fleet would normally use the 6.0-liter GM engine. But the integration of the hybrid powertrain enabled the company to procure vans with the 4.8-liter engine instead, saving Coca-Cola about $1,000 per unit. It was possible to use the smaller engine by virtue of the added electric torque provided by XL Hybrids' system: up to 280 lb.-ft. extra.
A notable aspect of the deployment is that Coca-Cola needed to secure 100 new service vans, of any kind, as a part of its regular fleet-replacement plans. Based on the fuel-efficiency results of the pilot program and the competitive pricing of the hybrid powertrain, the fleet opted to integrate the XL Hybrids system in every van – without the support of grant funds or other incentives.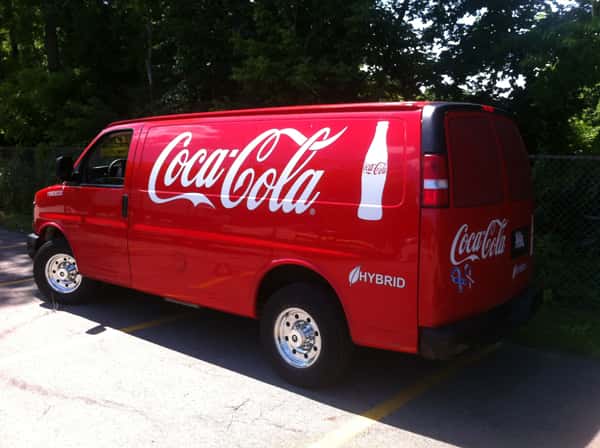 'It's all return-on-investment,' Ashton says, estimating that the payback period for the hybridization is three to four years per vehicle.
All of the new hybrid vans will be in service nationwide by the end of this month. The vehicle conversions began recently, with Knapheide handling the upfits through GM's ship-through process.
XL Hybrids also has an installation partnership and distribution agreement with Leggett & Platt Commercial Vehicle Products (CVP).