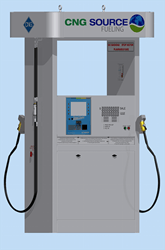 CNG Source, an Indianapolis-based provider of compressed natural gas (CNG) solutions, is launching a new line of fast-fill CNG dispensers.
Called TRIUMPH, the dispensers feature the company's proprietary Tank-sense technology, remote status and configuration, upgrade potential with different levels of add-on features, ultra high flow, and a 10-inch display. The Tank-sense technology, according to a statement from CNG Source, 'allows for an accurate temperature compensated fill no matter the vehicle setup, restricted or full flow.'
On-screen information shows – among other things – gallons dispensed, pressure at the hose and fill percentage. The product has National Type Evaluation Program certification; American National Standards Institute NGV 4.1 and UL certification will come later this year, says CNG Source.
The new equipment is compatible with most card readers and payment systems, as well as with most professional-grade CNG setups. It will be offered in the U.S. and Mexico as part of CNG Source's solutions, as well as worldwide through distributors specializing in high-quality/low-maintenance equipment for CNG stations and commercial fleets.