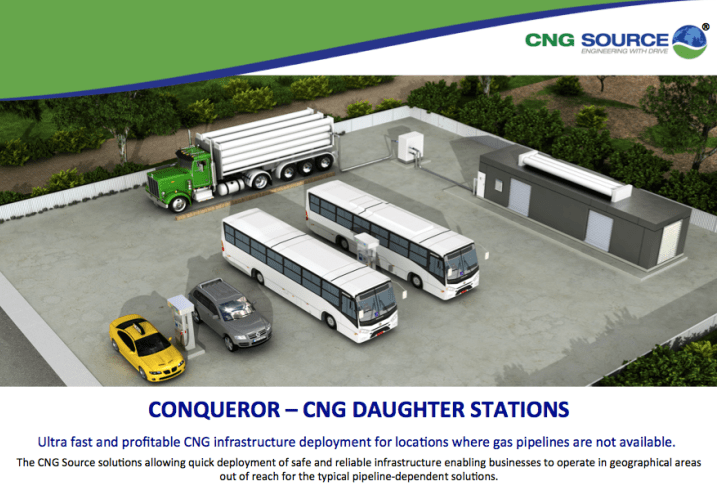 CNG Source, an Indiana-based provider of compressed natural gas (CNG) vehicle solutions and station development services, has introduced a new line of daughter stations branded CONQUEROR that facilitates CNG infrastructure deployment in areas where gas pipelines are not available.
"The CONQUEROR family features a number of key advantages, including a modular design ready for expansion with master/slave configurations, as well as integrated programmable priority panels," says Karim Bousfiha, vice president of marketing and business development for CNG Source. "The CONQUEROR units are also paired with state-of-the-art TRIUMPH dispensers, allowing for a superior user experience."
CNG Source says CONQUEROR fulfills the demands of the natural gas market for solutions that enable the quick deployment of a safe and reliable infrastructure and allow investors to target geographical areas unreachable by typical pipeline-dependent solutions. The CONQUEROR line also features most of CNG Source's signature components, including credit card and fleet card readers, remote monitoring and control, and more.
According to the company, the line's greatest advantage is that it can be set up in a few hours.
"Solutions like CONQUERER are even more critical for investors in countries like Mexico where the pipeline coverage is below 30 percent – even for most of the largest cities," says Bousfiha.
CNG Source says CONQUERER is now available to meet initial orders in the U.S. and Mexico and will eventually be offered worldwide.