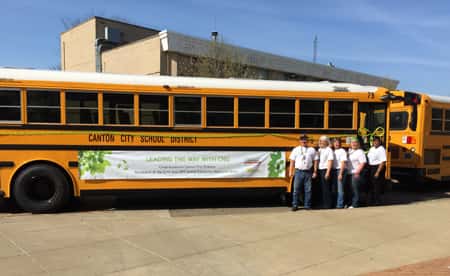 Clean Fuels Ohio says the Canton City School District has debuted four compressed natural gas (CNG) buses.
The buses, manufactured by Myers Equipment Corp., are the first CNG school buses in northeast Ohio, according to Clean Fuels Ohio.
Connie Dickon, transportation supervisor of the school district, worked with Clean Fuels Ohio to purchase the buses. The buses were also funded by an Ohio Environmental Protection Agency grant.
The vehicles will be fueled at the Stark Area Regional Transit Authority public refueling station, which opened in early 2012 and was partially funded by the American Reinvestment and Recovery Act – a grant also secured with the help of Clean Fuels Ohio.
The district has estimated that each CNG bus will travel more than 19,000 miles each year.