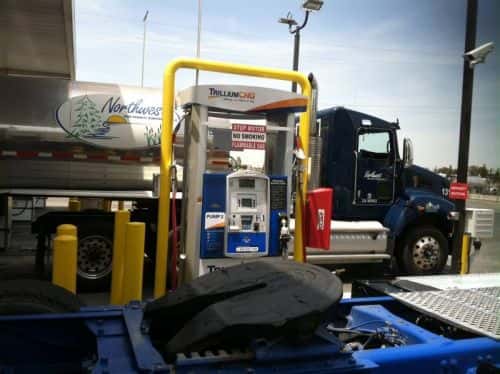 Roche Oil Inc.'s Pacific Pride refueling location at 1120 E. Paige Ave. in Tulare, Calif., now offers compressed natural gas (CNG) via infrastructure built by Trillium CNG.
This site is a card-lock commercial refueling location off Highway 99 between Fresno and Bakersfield. Northwest Food Products Transportation LLC, which currently operates 17 heavy-duty natural gas vehicles, is expected to be among the first and primary fleet accounts accessing CNG in Tulare.
The new 24/7 station features two dual-hose dispensers configured in a fashion that enables a pair of semis to fuel at the same time. It also features Trillium CNG's proprietary fast-fill hydraulic intensifier compressor platform.
'It's great we can partner with both Northwest Food Products and Roche Oil, who clearly understand the benefits of natural gas as a transportation fuel for heavy-duty fleets,' says Mary Boettcher, president of Trillium CNG.