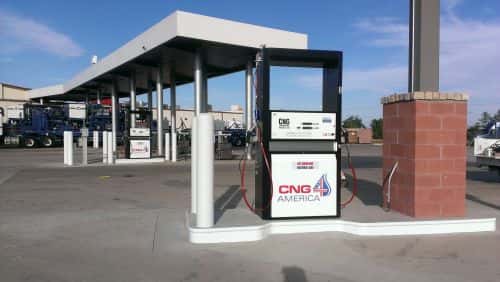 CNG 4 America has signed an agreement to build a compressed natural gas (CNG) station at the 7 Star Travel Center in Sulphur Springs, Texas. The station, located at 1600 West Shannon Rd. off Interstate 30, will provide CNG for heavy-duty trucks, as well as for medium- and light-duty vehicles.
'We are excited to partner with CNG 4 America,' says Mohammad Babar, owner of the 7 Star Travel Center. 'This broadens our product offering as well as provides a cleaner vehicle fuel that will save our customers money.'
The station will have four fueling lanes with two CNG fast-fill dispensers.
"We are proud to partner with 7 Star Travel Center," says CNG 4 America's Tim Williams. "This is just the beginning of signing multiple station agreements in North Texas."
Headquartered in Katy, Texas, CNG 4 America currently has three stations open in Bryan, Rosenberg and Katy, with plans to build more stations in Austin, La Porte and San Marcos this year. The company says it expects to build multiple truck-accessible stations annually for the foreseeable future.
Photo: CNG 4 America's station in Bryan, Texas