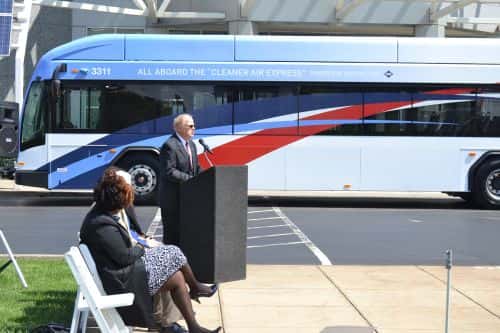 On Tuesday, the Greater Cleveland Regional Transit Authority (RTA) unveiled its new compressed natural gas (CNG) buses at a ceremony at the Great Lakes Science Center. RTA is adding 90 new CNG buses to its big-bus fleet this summer, with 25 more expected in 2016. The Gillig buses will replace clean diesel buses that have reached the extent of their useful life.
"Natural gas costs one-third that of diesel, resulting in savings of more than $200,000 over the life of each bus," said RTA CEO and General Manager Joe Calabrese, adding that the CNG buses will also help cut RTA's overall carbon footprint.
Calabrese also noted RTA is proud to join with partners such as Parker Hannifin, which is supplying the refueling dispensers, in strategic sustainability initiatives.
According to Tamara Horne, general manager of Parker's Veriflo Division, 'Natural gas provides significant benefits to the environment and the bottom line, and Parker's fast-fill fuel dispensers will help to make the transition from diesel as seamless as possible.'
"Together, we can create a healthier and more livable environment for our employees and customers," Calabrese said. "We're taking steps to reduce pollution and improve our environmental footprint in the region."
Photo courtesy of the Greater Cleveland Regional Transit Authority