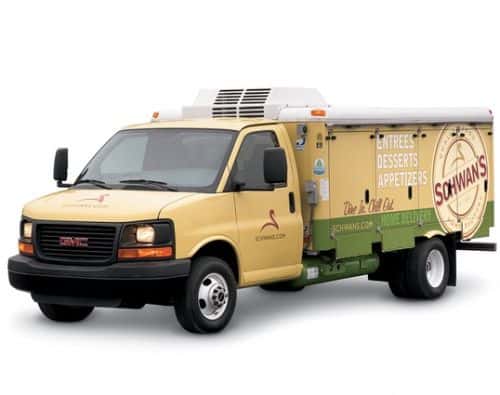 If you meet two pieces of criteria – you are in the fleet world and you have an even passive interest in alternative fuels – chances are good that you are aware of The Schwan Food Co. and its very long history with propane autogas.
The company's Schwan's Home Service Inc. subsidiary has been powering delivery vehicles with propane since the first wave of oil embargoes in the early 1970s. Back then, the emphasis for company founder Marvin Schwan was to secure a reliable fuel source for the fleet. Additional benefits of propane, such as its cleaner burn and steady price, became apparent thereafter.
Today, propane is as relevant as ever, according to Mike Speer, fleet director at Schwan's. And for other fleets contemplating a shift to autogas, the company's experience is proof positive that making an investment in change (and in vehicles and fueling infrastructure, of course) can have a long-term upside.
Right now, Schwan's Home Service operates a fleet of approximately 4,800 delivery trucks, and more than 70% of them run on propane. Specifically, the propane-powered fleet consists of about 2,000 GM C5500 medium-duty trucks, 1,000 Ford cutaway trucks, 300 Isuzu cab-forward medium-duty trucks and 80 GM cutaway trucks.
Collectively, these vehicles eliminate the consumption of 18 million gallons of gasoline and/or diesel annually, Speer notes.
The Schwan Food Co. is unique among fleets in that it owns a key supply-chain partner: Bi-Phase Technologies. The company launched its proprietary Liquid Propane Electronic Fuel Injection platform in the mid-1990s and became a wholly owned subsidiary of The Schwan Food Co. in 1999.
Bi-Phase continues to provide all of Schwan's Home Service's EPA- and CARB-compliant autogas systems, which a small group of independent up-fitters installs on the GM, Ford and Isuzu trucks. Schwan's owns and manages the entire fleet, and an extensive number of technicians keep the vehicles moving.
'We work with a network of external mechanics throughout the country to help maintain the fleet,' Speer tells NGT News.
In terms of the propane fuel itself and the accompanying refueling infrastructure, Schwan's is able to contract for autogas supply in bulk. The price of propane for the company's fleet is less than $2 per gallon.
Fueling takes place right at Schwan's warehouses – about 430 of them – where the propane trucks are parked overnight. Refueling infrastructure ranges from small-volume units up to 12,000-gallon tanks.
'Propane has been the best option for us because we have infrastructure in place, and our cost-analysis shows that it's been beneficial,' Speer says. 'We are continuously evaluating our fuel options, but we remain committed to propane.'
SCHWAN'S AT-A-GLANCE
Overall Motorized Fleet
Delivery trucks: ~ 4,800
Clean Fleet
Propane autogas delivery trucks: ~ 3,380
Clean Fleet Infrastructure
Propane autogas refueling sites: ~ 430
Photo courtesy of The Schwan Food Co.