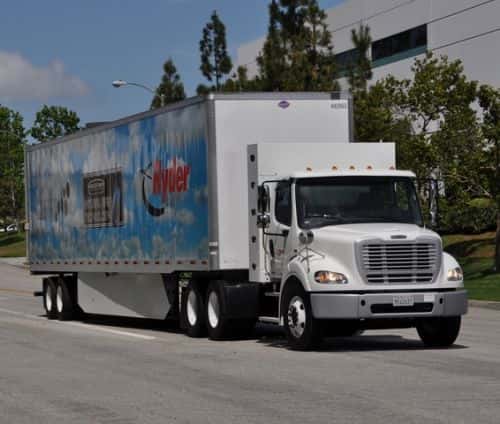 For decades, Ryder System Inc. has been one of the most conspicuous transportation and logistics companies on North American roads, focusing heavily today on commercial truck leasing for businesses and fleets of all types. Part of the company's evolution is the steady adoption of alternative fuel vehicles.
Scott Perry, vice president of supply management for Ryder's Fleet Management Solutions business segment, tells NGT News that the motivation for shifting parts of its fleet away from diesel and gasoline has been both financial and environmental.
'For several years, the cost of fuel has been top of mind for many of our customers,' he says. 'We've pursued these technologies, particularly natural gas, to offer our customers an option that can help offset the cost of diesel and bring more predictability.'
Ryder's work with alternative fuels actually began in 2007 with its RydeGreen medium-duty hybrid-electric truck. Today, there are 30 of these units in circulation, all of which feature hybrid drive systems from Eaton. The trucks are both Freightliner and Navistar models.
Last May, Ryder put its first natural gas-powered tractors online, and the company now has 250 in its fleet. Thirty-five of these Class 8 trucks are equipped with liquefied natural gas (LNG) fuel systems, and the balance are compressed natural gas (CNG) units. The majority of the 250 tractors use the 8.9-liter ISL G engine from Cummins Westport, but 20 feature Westport HD's 15-liter power plant.
And this month, the company is also putting into service its first LNG tractor to feature the highly anticipated Cummins Westport ISX12 G 11.9-liter engine, which is set for volume production in early 2013.
Much of the momentum for Ryder's natural gas vehicle (NGV) initiative came from the company's participation in the San Bernardino Associated Governments' (SAN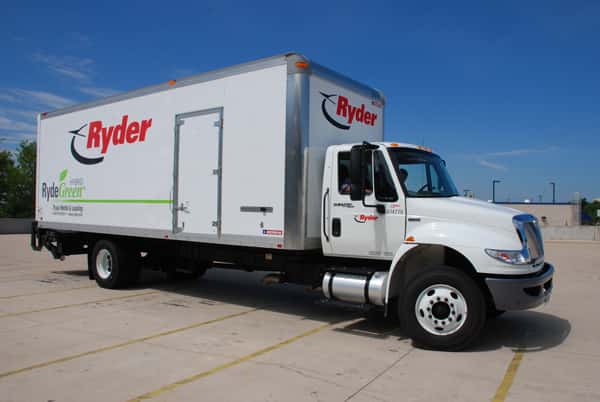 BAG) $38.7 million heavy-duty truck project, which kicked off in early 2010. Working with the Southern California Association of Governments Clean Cities Coalition and California Energy Commission, Ryder set out to deploy 202 NGVs – 182 of which were Freightliner Business Class M2-112 daycabs.
In terms of supporting infrastructure, the company is currently working with General Physics to construct a public-access, fast-fill fueling station in Orange Co., Calif. This site will offer both LNG and CNG fueling options, with a Chart LNG tank and Chart/NexGen LNG dispenser, and Gilbarco Veeder-Root CNG dispensers.
The Orange Co. facility is expected to be complete late next month. Ryder will be awarding a contract for another fueling station – this one in Fontana, Calif. – within a few weeks.
For Ryder, the push to gradually introduce more NGVs into its fleet is based largely on customer demand.
'Natural gas is a domestic fuel source that is priced more competitively and is less volatile than diesel,' Perry says. 'The fact that it is cheap, available in abundant supply, and is cleaner than diesel with fewer greenhouse gas emissions makes it an attractive fuel source.'
However, fleet managers need to examine the availability of CNG or LNG – which is relatively sparse in most parts of the U.S. – or otherwise consider pursuing their own refueling facilities. (Some of Ryder's large leasing customers are doing just that.)
'Infrastructure is absolutely the single largest limiting factor,' he says, noting that retail LNG infrastructure is in its infancy, and many existing CNG stations are not well-equipped for high-volume commercial use.
Moreover, fleet managers must consider NGV maintenance, repair and parts supply. 'Because natural gas, in either form, is classified under totally different standards for building codes and fire protection, it affects lighting, ventilation, fire-suppression and other systems,' Perry notes.
Ryder's new Orange Co. facility includes a maintenance garage that has been fully upgraded to handle NGVs, and a site in Rancho Dominguez, Calif., has also been upgraded. The new Fontana station will be similarly equipped, and maintenance facilities in Livonia and Grand
Rapids, Mich., and Tucson, Ariz., are also NGV-ready.
The company's maintenance and repair network is Ryder-owned and -operated, so these elements are tightly managed. Ryder has also received ample assistance from partners like Freightliner, Peterbilt and Cummins Westport, in terms of fine-tuning inventory/parts planning and ascertaining what parts, tools and equipment are needed for adequate service support, on-road and otherwise.
'We did a lot of homework to understand what would go into the repair cycles,' he says.
Going forward, Ryder's alternative fuel bet is on natural gas. The company is actively assessing all-electric vehicles, but there are a number of significant stumbling blocks.
'The technology is currently more suited for a low-mileage application and is somewhat limited in range,' Perry says. 'The acquisition costs are also high.'
RYDER AT-A-GLANCE
Overall Motorized Fleet
Trucks (Class 1-6, GVW to 26,000 lbs.): 68,400
Tractors (Class 7-8, GVW 26,000+ lbs.): 55,700
Other (light-duty service vehicles, etc.): 2,500
Clean Fleet
Hybrid-Electric Trucks: 30
Natural Gas Tractors: 250
Clean Fleet Infrastructure
Natural gas refueling stations: 2, CNG and LNG, public access
NGV-equipped maintenance facilities: 3
Photos courtesy of Ryder System Inc.