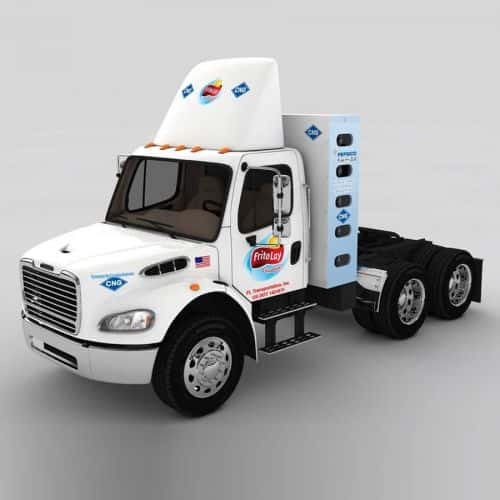 Frito-Lay North America has aggressive targets for reducing its fleet's fuel consumption and greenhouse gas emissions: cutting both in half by 2020. To accomplish these goals, the company has deployed a range of alternative fuel solutions across its motorized fleet of about 18,000 vehicles.
In 2007, Frito-Lay began looking into improving upon its legacy fleet of medium-duty delivery vehicles, which were mainly Freightliner Custom Chassis Corp. stripped chassis with Cummins and GM diesel engines. The company considered hybrid electric units, but the trucks' drive cycles were not quite conducive to the technology, and the fuel-efficiency improvement was – at the time – actually less than what diesels could offer.
'The goal was to get to the most efficient clean diesel as possible,' says Mike O'Connell, Frito-Lay's senior director of fleet capabilities.
The company chose to transition to a Sprinter chassis for this vehicle class, which today accounts for about 13,000 units. More of these new clean diesels are coming online every year, and they boast 18 mpg.
'That pretty much doubled the fuel economy from what we had before,' he remarks, noting that Frito-Lay is prioritizing smaller-displacement engines as it contemplates future vehicle acquisitions. With snack chips as cargo, weight is much less of an issue, and, in turn, horsepower can be sacrificed.
Also, just before the company adopted the Sprinter solution en masse, it converted a number of Ford E-350 vans to propane autogas. About 120 vehicles in Ohio and Michigan received ROUSH CleanTech systems, and autogas refueling equipment was installed on-site at four locations.
O'Connell says these vans are markedly cleaner – in terms of emissions – are very fuel-efficient and have been absolutely reliable, with none of the cold-climate issues previous generations of autogas vehicles encountered.


Another 4,000 vehicles in the company's fleet are traditional medium-duty box trucks. The legacy units were mostly International diesels, but also some GM models. When it came time to select the new vehicles for the fleet replacement program, Frito-Lay opted to make half of its acquisitions Hino clean diesels, which offered a 15% to 20% fuel-economy improvement.
The model comprising the other half – the Newton from Smith Electric Vehicles – is receiving a lot of buzz. Frito-Lay has deployed 176 of these all-electric trucks to handle consistent, low-mile delivery routes that are heavy on stops and starts – the ideal application for a commercial EV.
According to O'Connell, putting the EVs into circulation has not been much different than any large rollout of new vehicles. There have been some stumbling blocks – such as perfecting where and how to use charging infrastructure – but Frito-Lay is thrilled with the EVs' performance and payback.
'The fuel savings is flowing through and has been tremendous for us,' he says. Moreover, O'Connell notes that delivery drivers are invariably pleased with the qualitative metrics: no sound, no vibration, no fumes.
So far, these EVs have logged more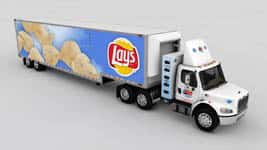 than a million miles in regular service. Frito-Lay announced plans this spring to deploy another 100 Smith trucks in 2012.
In the heavy-duty space, Frito-Lay is running approximately 1,200 tractors, primarily Volvo diesels. To date, its uptake of natural-gas-powered vehicles has been light.
But this year, the company is rolling out 70 compressed natural gas (CNG) tractors, purchased from Freightliner, at seven different locations. Frito-Lay's average annual replacement cycle is about 125 tractors, and O'Connell wants to go natural gas in a huge way in the coming years.
The 70 CNG trucks on the road this year will run routes where fuel is readily available, and the company is also building one CNG station of its own in Wisconsin, he says.
FRITO-LAY AT-A-GLANCE
Overall Motorized Fleet
Trucks (Class 1-6, GVW to 26,000 lbs.): 17,000
Tractors (Class 7-8, GVW 26,000+ lbs.): 1,200
Clean Fleet
All-electric trucks: 275
Propane autogas vans: 120
Compressed natural gas tractors: 70
Clean Fleet Infrastructure
Compressed natural gas refueling stations: 1
Propane autogas refueling sites: 4
Photos courtesy of Frito-Lay